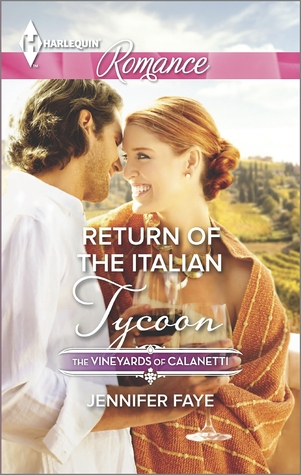 Return of the Italian Tycoon by Jennifer Faye: Cinderella? Is her boss really a prince charming or a scared male who is more like the beast?
Kayla Hill realized that she wanted more out of life than to stay home and raise children and never leave her small town. She wanted to travel, she wanted to make it big and yes some day, have love and a family, just not yet. So she was working hard to achieve those goals and staying connected through her work with a charity.
Angelo Amatucci didn't have pleasant memories of his childhood. He learned at a young age to keep focused and in control. Life was easier that way. It was how he ran his company and his personal life, not that he really had a big one of those, or even one to speak of to be honest with you.
When Angelo has to go home to Italy to take care of a pressing matter when he has just had a very pressing business matter come up as well he takes along the one person who might be focused enough to help him, Kayla. It's not a problem until he starts to see her as a female, then one hundred percent focus might just mean he is seeing more and more of her. While he's seeing more of her, she's fighting harder and harder to hide what might be the end of her New York dream.
This is the second book in the series though it is more than capable of standing on it's own and realistically has only slight tie ins to the first in the series. That notwithstanding Ms. Faye has done a great job in creating two believable and semi relatable characters. While the scenery and some descriptions might leave some wondering, the dialogue between the two main characters more than makes up for it. This isn't a brief read, giving the reader something a little meaty to dig into and it definitely lives up to the romance genre that it is. Enjoy this Cinderella meets the Beast story.

Book Info:

 August 4th 2015 | Harlequin | Vineyards of Calanetti #2
Promoted…to wife?
Tough tycoon Angelo Amatucci must return to the Tuscan village of his childhood. With a lot of work to do, he brings his dedicated assistant Kayla Hill with him.
As beautiful Kayla falls for the village's charms, she also discovers a new, very attractive side to Angelo–working with him to secure a wedding contract is blissful torture! Especially as Kayla begins to wonder what it would be like to be Mrs. Amatucci…
The Vineyards of Calanetti
Saying "I do" under the Tuscan sun…