In Romancing The Billionaire (Billionaire Boys Club #5) by Jessica Clare, Violet has had very little to do with her famous archaeologist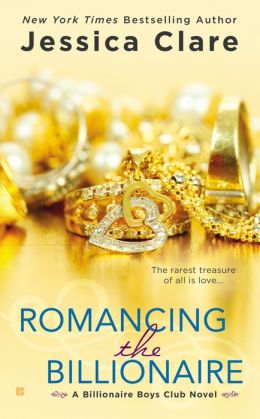 father, Dr. Phineas Dewitt, for ten years. She knows him in a completely different way than the public. Upon his death, she wants to settle his estate and move on. Now a teacher, she wants nothing more to do with him or his last adventure for her from the grave.
Jonathon was the boy who broke her heart 10 years ago. He has never forgot Violet, and he's never wanted anyone the way he wants her. Now grown up and very well off, he gets an unexpected chance to be with her again. He believes her father stole something from him, from one of his digs. When Violet's father leaves them both a clue after his death, Violet is determined not to become involved, but Jonathon will do whatever it takes, including blackmailing her, to get her to play along in a scavenger hunt that will take them all over.
Violet is full of anger, grudges, and assumptions though and does not play along nicely. She's changed a lot over the years, but Jonathon still sees 'his' Violet. The attraction between them is unmistakable and Jonathon knows he wants a second chance with her…what ever their adventure turns up. Past secrets, heart ache and mistrust are major blocks though…and might be too much for Jonathon to break through. Will this last scavenger hunt courtesy of her father give them both just what they need, or will it drive them apart forever?
The characters in Romancing The Billionaire were dynamic, frustrating, and at the same time intriguing. Violet was very difficult to really care for. She is frustrating and her grudge and dealings with Jonathon show a real lack of maturity. Despite Jonathon's 'blackmail' to entice Violet to work with him, I found myself really feeling for him and liking him. His feelings for Violet are obvious, and his own heart break gives a realistic feel to Romancing The Billionaire. He tries hard with Violet and does what she wants, but she is a mass of contradictions. As individuals, they are both strong and determined people, as professionals they have both worked hard. These parts of both of them I liked and respected. When Violet does briefly let her walls down, the steam factor between them is amazing and the connection between them is real.
I liked how Jessica gave us glimpses of their past together, because I did not get the impression that as an adult Violet is particularly happy…and these flashbacks gave me hope that she could find that happy, carefree person hiding inside her again.
I liked the scavenger hunt aspect of Romancing The Billionaire, the facts, and the places they went. This added another dimension and a strong secondary plot, besides Violet and Jonathon's relationship, that kept Romancing The Billionaire very interesting.
There are few secondary characters, with the infrequent appearance of characters from other Billionaire Boys Club books, and this works well with the plot and flow of Romancing The Billionaire. Romancing The Billionaire can definitely be read as a stand alone. This is one of the things I like about this series, all of the books can be read as stand alones and/or out of order without giving away everything that happens in the other books.
Jessica writes well paced books, and even though I didn't care for Violet, she easily drew me into Romancing The Billionaire with her great writing. I'd recommend Romancing The Billionaire to romance readers who like a steamy second chance romance.
Book Info:

Published November 4th 2014 by InterMix | (Billionaire Boys Club #5)
The New Billionaire Boys Club novel by the New York Times bestselling author.
The Billionaire Boys Club is a secret society. Six men of astonishing wealth. But there's one thing money can't buy. When it comes to love, success doesn't come so easily…
Jonathan Lyons. Playboy, billionaire, and adventurer, he lives life on the edge. When he hears that his mentor, Dr. Phineas DeWitt, had a secret journal that leads to a legendary artifact, Jonathan takes action. It stirs his blood, but it comes with a heady challenge: DeWitt's daughter Violet. She has what Jonathan needs. And she's not giving it up it to the man who broke her heart.
Violet is Jonathan's weakness—he's still in love despite their volatile breakup a decade ago. But Violet's memories have a sharper edge. She's never forgiven him for abandoning her. Or so she thought. When Jonathan's attentions turn seductive, she's in danger of falling for him all over again. And she can't help but wonder… does he really want her, or just what she's hiding?