Rookie Move by Sarina Bowen: Georgia is determined to show her boss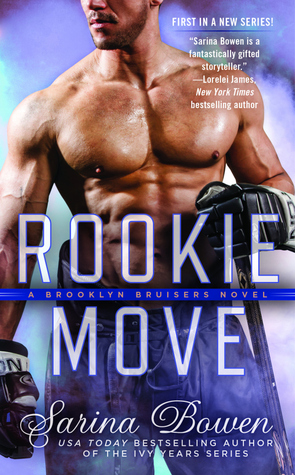 that she's more than capable of being in charge of PR for the Brooklyn Brusiers. She may not have the most experience, but she makes up for that with her intelligence, drive, and determination. She's excited to have her dad join the team as the new head coach, but she also needs to set some boundaries to ensure she has the team's respect.
Her enthusiasm quickly dies when she learns of her boss' latest acquisition: her high school boyfriend. She hasn't talked to Leo in the six years since she ended their relationship. And Leo looks better than ever since he's put everything into making his dream of playing hockey in the NHL a reality.
Both Georgia and Leo quickly learn that the attraction that once simmered between them is still there after all this time. Georgia is determined not to get involved with any of the players, but Leo is so much more than that. It doesn't help when he declares his feelings during a press conference either.
"I don't have time to find a date. What if you went with me? Are you spoken for?"
"Uh…" What? "I can't," she snapped, her shock getting the best of her. "That's, um, nice of you, but I could never date a player." Jesus. He didn't ask to date her. "I mean, I can't appear to date a player," she rambled. This was getting worse by the second.
As much as Georgia wants to avoid Leo and their past, she can't when she travels with the team. He's just there and they can't deny their attraction. In spite of the difficulties, Leo is determined to get Georgia back and pick back up where they left off.
"Even a chick flick?" she teased.
Her knee received a squeeze. "I really miss you, Gigi. If you're going to let me crash your Friday night, you can put on My Little Pony for all I care."
"Let's not get carried away."
Rookie Move is a sexy, entertaining, second chance romance. Sarina Bowen strikes a good balance between the past and present, and character and relationship development. Ms. Bowen provided a really good start to what promises to be an interesting new series with great characters. Fans of Sawyer Bennet, Jeanette Murray, and Rachel Gibson will enjoy Rookie Move.

Book Info:

Publication: September 6th 2016 | Berkley | Brooklyn Bruisers #1
The first novel in a sexy new series featuring the hockey players of the Brooklyn Bruisers and the women who win their hearts—from the USA Today bestselling author of the Ivy Years series.
In high school they were the perfect couple—until the day Georgia left Leo in the cold…
Hockey player Leo Trevi has spent the last six years trying to do two things: get over the girl who broke his heart, and succeed in the NHL. But on the first day he's called up to the newly franchised Brooklyn Bruisers, Leo gets checked on both sides, first by the team's coach—who has a long simmering grudge, and then by the Bruisers' sexy, icy publicist—his former girlfriend Georgia Worthington.
Saying goodbye to Leo was one of the hardest things Georgia ever had to do—and saying hello again isn't much easier. Georgia is determined to keep their relationship strictly professional, but when a press conference microphone catches Leo declaring his feelings for her, things get really personal, really fast….