In Royal Chase by Sariah Wilson, Lemon Beauchamp is forced to step in for a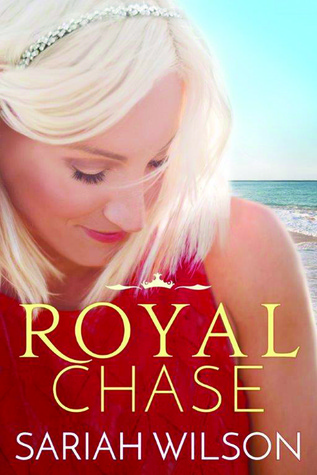 contestant on the reality show Marry Me, a show much like The Bachelor. The bachelor is Lemon's client and friend, Prince Dante of Monterra, who is also the brother of her best friend's fiancé.
Lemon was supposed to be eliminated the first night, but Prince Dante, who wanted to take their friendship to another level, had other ideas. Convincing her to stay on the show by asking her to spy on the other women to give him updates, he uses the time to plan dates for her that he knew she would love and gain her trust. Lemon finds herself falling for him but she has one problem: she's already engaged to someone, even though their wedding is six weeks away and Sterling still hasn't given her an engagement ring.
It was amusing watching Lemon try to get to know the other contestants and get her feelings about them all.
And Lisa, who spent two hours complaining about her ex-boyfriend and how their relationship had gone so wrong and she didn't know why. She never even took a breath so that I could excuse myself and leave. I started imagining forms of suicide that would be less painful than this conversation, and decided all of them would be, including dropping myself into the tiger enclosure in the zoo and being slowly eaten alive.
Lemon does find one contestant that she likes and becomes protective of. She decides she needs to stick around to protect Genesis from Abigail, who's trying to ruin the chances of the other women.
Genesis came up and stood next to me. "Abigail tried to sabotage me, didn't she?"
"She did. Sorry."
"Don't be sorry. I can't believe she already has minions."
"I wonder if they get dental."
"Only henchmen get dental. Minions are out of luck."
"Yeah, they're basically glorified interns."
I so liked her. We were on the same wavelength.
Lemon wants to follow her heart, but she doesn't want to disappoint her parents. She thinks that by not marrying Sterling she'll let them down. She struggles throughout the story with doing what she feels is best for her and what she thinks is expected. Also, having been cheated on in the past, she has trust issues that she needs to work through, which Dante is determined to help her overcome.
Dante is very loyal to his family, and he wants the chance to prove to Lemon that he would be that way with her as well. He pulls out all the stops, including let her live out the one thing she always regretted not being able to do.
While this isn't listed as part of a series, there's actually another book, Royal Date, which features Lemon's best friend, Kat, and Dante's older brother, Prince Nico. While the first book is when Dante and Lemon first meet, this can be read as a stand alone. Lemon and Dante's first meeting is covered through flashbacks in this book so the reader doesn't feel like they're missing anything if they haven't read Royal Date.
There was a twist in the reality show that involved Dante's twin, Rafe, as well as Genesis. I'm looking forward to seeing how Rafe will make things right with her.
Royal Chase was a cute and amusing story with little drama. If that's something that you're looking for, or if you enjoy stories about friends turning into lovers, I recommend reading this one.
Book Info:

Publication: January 26, 2016 | Montlake Romance |
Booking her client, Prince Dante of Monterra, on reality show Marry Me is a royal coup for PR agent Lemon Beauchamp. But thanks to a last-minute glitch, Lemon must pretend to be one of the contestants vying to win the playboy prince's love and then live happily ever after—at least until the publicity tour ends.
Prince Dante agreed to go on the show to find a wife, even though he already has the perfect candidate in mind. She's smart, funny, sexy, and completely uninterested in wealth and fame. She's also absolutely determined to keep him at arm's length.
Even if Lemon weren't already engaged, she can't trust a notorious flirt like Dante. So she ignores the lingering looks. Those subtle, thrilling touches. That pulse-quickening kiss. Until suddenly, Lemon isn't playing for the cameras. She's lovestruck for real, and just maybe, the man behind the title is the one who's always been in her heart.…