Royally Wed by Teri Wilson: Asher is a world famous cellist who has pretty much quit his job. He can't stand to be around his cheating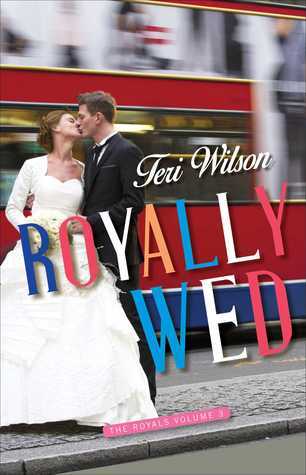 ex-fiancée and former mentor/conductor now that he knows of their betrayal. To add salt to the wound, he's developed a major case of stage fright. Music is his life and his passion, but he's struggling to play anything with his normal level of expertise and emotion. He's going to have a find a way since he was just hired to play at the next royal wedding in the UK.
Amelia is the youngest of three siblings and she's been known for never quite getting it right. She wants to be the good, reliable, dependable princess who never steps even a toe out of line, but that has rarely worked out for her. And this time she is in quite the pickle. She's about to marry her best friends' dad to save her family despite the fact that she doesn't love him.
Asher and Amelia are both surprised to find that Asher will be staying at Buckingham Palace…and right next door to Amelia to boot. They strike up an unlikely friendship as they are drawn to each other and end up trying to rescue each other.
"He stepped away. Lucky for you, I was walking past your room when I heard you screaming in terror."
"I was hardly screaming, and I'm not terrorized." He should've risked getting bit and given the dog another good heave. But it was the queen of England's dog, for God's sake.
With the wedding drawing closer each day, Amelia is torn between disappointing her family and the country and doing her duty. She's miserable, but Asher is the one bright spot in her life. He treats her like a woman instead of a princess and goes along with her whims. Asher knows his place, but it doesn't mean that he wants to accept that their growing feelings will come to nothing.
"So this is where you wanted to take me? To the zoo?'
"Surely you know why."
Her lips spread into a slow smile. "Not the leopard."
"Yes, princess. Your leopard."
Royally Wed is enchanting and entertaining. Teri Wilson created tension, anticipation, conflict, and banter. Ms. Wilson developed a strong cast of characters with the addition of some memorable Corgis. Fans of Ruthie Knox and Jamie Beck will enjoy Royally Wed.
Book Info:

Publication: November 13th 2017 | Pocket Star | The Royals #3
Teri Wilson's Royals series returns with this charming and witty retelling of the timeless classic MGM film Royal Wedding starring Fred Astaire.
When Asher Reed, an American classical musician, is hired as a last minute replacement to perform at the royal wedding of Princess Amelia in Great Britain, he's hoping he can shake his recent bout with performance anxiety long enough to get through the festivities and get his career back on track. Little does he know that his life is about to change forever.
As a guest of Buckingham Palace, he knows he has no business even speaking to the princess, but he's completely awed by her beauty and more than a little intrigued by her rebellious spirit. Still, he definitely knows he has no business kissing her silly at the fitting of her wedding gown. He's there to perform, not cause a royal scandal. But when he stumbles upon her groom's appalling secret, the fate of the princess and the British Crown suddenly rest squarely in his cello-playing hands….
With Teri Wilson's signature "endearingly charming and delightfully sizzling" (USA TODAY bestselling author Nina Bocci) prose, Royally Wed is a delightful whirlwind romance that will leave you breathless and have you out of your seat for a standing ovation.