A Priceless Find by Kate James: It's been a little while since I enjoyed such a fun, well written romantic mystery as "A Priceless Find".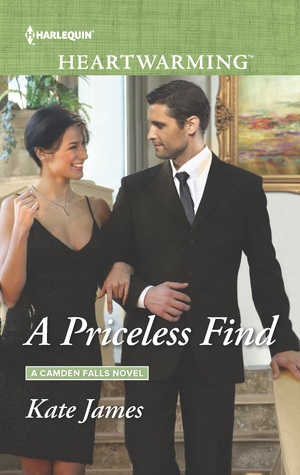 The novel is set in a small New England town on the outskirts of Boston, and introduces readers to Chelsea, an assistant curator in a high end art gallery, and Sam, a dedicated police detective with a very sad past.
The attraction that the two feel for each other truly is a case of opposites attract. They quickly find many positive qualities in each other.
Unfortunately, they are stalled in getting to know each other better after their first few dates, as Sam becomes involved in solving a robbery of the next door jewelry store, and also in solving a complex art forgery case in the gallery Chelsea works for. They eventually decide to spend time together without waiting for the cases to be solved, as their feelings for each other are immensely strong.
Sam wrestles with sadness from his previous marriage and from the loss of his young son- which keeps him initially from getting too close to Chelsea. Chelsea wants nothing more than for their relationship to develop into a lifetime one. She is also consumed with finding the answers to the art forgery.
I highly recommend this captivating and touching story!

Book Info:

Publication: October 1, 2017 | Harlequin Heartwarming | Camden Falls #2
A robbery followed by the discovery of a forgery at a respected art gallery thrusts Chelsea Owens into the center of an investigation headed by Detective Sam Eldridge. The instant chemistry between the high-spirited aspiring curator and the tall, dark, brooding cop is a classic case of opposites attract.
Complications arise when Chelsea uncovers a connection to an art heist that has eluded the FBI for over a quarter of a century. Teaming up with Sam to find the stolen paintings valued in the tens of millions of dollars ignites feelings that could lead to lasting love. But Sam isn't ready to move beyond the tragedy in his past, no matter how promising his future with Chelsea could be