Running Target by Kari Lemor When undercover FBI agent Jack Holland hooks up an informant, Callie Lansing, he never expected to fall in love with her.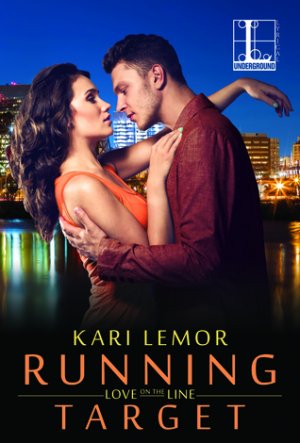 The problem was she was also the girlfriend of Angelo Cabrini, the son of mob boss Jonathan. When Angelo confronts Jack about Callie's pregnancy, a confrontation happens that leaves Angelo dead. Now on the run from the mob, Jack has to sneak in what little time he can with his son, Jonathan. But after almost three years of hiding and missing out on the important moments in Jonathan's life, Jack has had enough. He wants his family back, and he's determined to finally find a way to put Victor behind bars so he can achieve that.
You can't help but feel for Jack and Callie. Callie loved Jack and wanted him around. Jack loved Callie and Jonathan, but all he had was brief, stolen moments with them. He missed all the important moments in his son's life, including his birth, his first steps, his first words. All he had were pictures that Callie sent him and the times they spoke on the computer. It was sad.
You can't help but feel for Jonathan, too. He may be really young, but he knows Jack is his father. He's always happy to see him, and the moments the two share together are really sweet and touching. There's a heartbreaking scene when Jack has to leave again and Jonathan doesn't want him to. All he wanted was his father to be around.
Callie was a strong woman; first she was with Angelo, which wasn't really a true relationship to begin with, and then she loses Jack. She has to raise her son pretty much on her own, with the help of her best friend, Heather, and Jack's cousin, Scott. It doesn't help that Victor believes Jonathan is Angelo's son, so he comes to his birthday parties and insists they come visit him in New Jersey.
Victor has a price on Jack's head, and Jack feels like he has nowhere to turn. Victor has people in his pocket, from judges to FBI agents. What I didn't get was that Jack also had friends. Among them was a friend who was in the FBI and wasn't corrupt, a friend in the DA's office, and a friend who was a police officer. Yet he never asked them for help. It didn't make sense to me, and by the time they offered to help, it was a little late.
I also didn't understand why Jonathan was referred to as Scott's nephew and Scott was referred to as his uncle. Technically, they were second cousins, as Scott and Jack were cousins. It happens several times in the story. It wasn't a deal-breaker for me, but I was left wondering if there was a reason it was worded that way.
Based on the preview of at the end of the book, the next book is going to be Scott and Heather's story. I'm looking forward to reading that, because there seems to be some sparks between the two in this book.
Running Target is about finding one's way back home. It's about beating the odds when it seems like everything is going against you. And most importantly, it's about family. It has some suspense and romance, and a whole lot of love, especially for adorable Jonathan. I would recommend this for readers who enjoy their romance mixed with a light level of suspense.

Book Info:

Publication: July 4, 2017 | Kensington Lyrical Underground | Love on the Line #2
FBI agent Jack Holland broke every rule in the book falling for the girlfriend of Angelo Cabrini, son of a New Jersey mob boss. But even if Callie Lansing's relationship to Angelo was actually a cover and her heart was free, her relationship with Jack put both of their lives at risk. Nothing, though, could make Jack regret the liaison that led to the birth of their son, Jonathan.
After Angelo discovered Callie's pregnancy, he went after Jack and wound up dead. Now Jack is on the run with a target on his back. The only thing keeping Callie and Jonathan safe is the mob boss's belief that the baby is his grandchild. But if Victor Cabrini discovers the truth before Jack can put him behind bars, it could mean death for his sweet covert family. . . .