Salazar's One-Night Heir by Jennifer Hayward is the third story in The Secret Billionaires series. It's centered on four very wealthy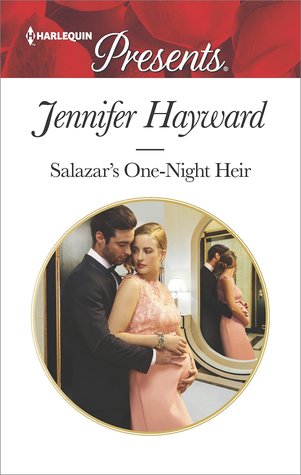 men who are best friends and have a love of extreme sports. When one of their members, Sebastien, nearly died in an avalanche, they were forced to take stock of their lives. Sebastien has made a deal with his friends – live for two weeks without their name, and their fortunes and if they can tough it out he'll donate a sizable portion of his inheritance to a global search and rescue fund. It's Alejandro Salazar's turn to find true love in this very sexy and thoroughly entertaining romance.
Alejandro's mission from Sebastien is to spend two weeks incognito as a groom in the stables of his family's chief rivals. A bitter dispute over the lineage of horses dating back to his grandparent's time has the two families at odds over whether or not a stallion belonging to the Salazar's was illegally used to breed the Hargrove's champions. While undercover, Alejandro plans to obtain a DNA sample of the descendant of the horse in question to determine once and for all whether his family's equine line was stolen from them. With his love of horses and training from his grandmother, the CEO of the Salazar coffee empire is able to easily slip into the role as a handler in the Hargrove stables. He just doesn't count on meeting a woman whose fire takes his breath away.
Cecily Hargrove is under immense pressure from her family to pass her upcoming show jumping trials on route to a world championship. An accident a month earlier has left her and her horse Bacchus nervous and no longer in sync. When 'Colt Banyon', the new groom in the stables offers her some advice to help with the training, she reluctantly accepts. The sexual attraction between them doesn't go unnoticed, culminating in a fiery and passionate scene. But when Alejandro's two weeks are up he must return to his real life. Cecily soon discovers his deception, and something even more upsetting – she's pregnant! Alejandro's determined to do right by the child and insists that they get married. Can they recapture the connection they had and build a real future together?
At the beginning of this story I wasn't sure how I felt about the heroine, who comes across as arrogant upon her first meeting with 'Colt' and the reader. But I quickly fell in love with her when the underlying circumstances of her accident are revealed, and in her subsequent apology and friendship with Alejandro under his guise of stable hand. Alejandro's conflicted feelings for Cecily are clearly laid out. On the one hand, she's the daughter of an enemy of their family. But he quickly sees how vulnerable she is, and wants to reassure and comfort her, as well as help her rekindle her trust in her horse, and in herself.
Alejandro and Cecily share some very sexy and sensual love scenes (honestly, some of my favorites in the HP line!) and even though they go through some rocky times the strength of the undeniable emotional bond between them sees them through. Unlike some other Harlequin Presents heroes, I found Alejandro to be more thoughtful and caring than expected considering his wealth and position. I loved how the story plays out with the underlying family conflict and found the setting and show jumping theme very interesting. I also really think it's a neat series idea, to have these wealthy men have to live off their own resources for a time and discover some of what's really important in their lives that can't be bought with money. Alejandro and Cecily have to work at getting their happy ending just right but it's well worth the wait. I highly recommend this story and can't wait to read more by this author!
Book Info:

Publication: June 20, 2017 | Harlequin Presents | The Secret Billionaires #3
The challenge: take revenge for a decades-old injustice…
Tycoon Alejandro Salazar will take any opportunity to expose the Hargrove family's crime against his–including accept the challenge to pose as their stable groom! His goal in sight, Alejandro cannot allow himself to be distracted by the gorgeous Hargrove heiress…
Her family must pay, yet Alejandro can't resist innocent Cecily's fiery passion. And when their one night of bliss results in an unexpected pregnancy, Alejandro will legitimize his heir and restore his family's honor…by binding Cecily to him with a diamond ring!