Short Fuse By Rececca Crowley: Nicola's goal is to not only ensure that the Hambani mine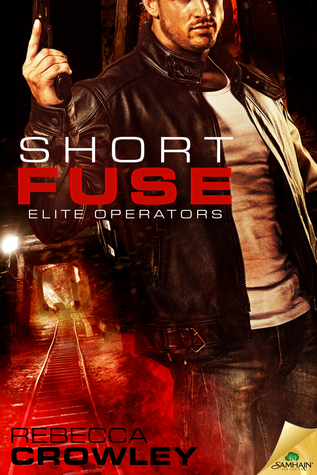 is operating under safe conditions, but also that the people who traveled to work there and are living in makeshift camps are having their needs met as well. The country just ended a civil war, so Warren is hired to accompany her to keep her safe. Once they get arrive though, not everything is as it seems.
Nicola has high hopes. She wanted to make a difference and make everyone happy, but it was unrealistic considering the condition the country was in. Warren realizes that her goal is most likely unattainable and tries to talk her out of it, but that doesn't stop her from trying. She's a woman trying to make it in a man's world. No matter what anyone said, she was determined to prove them wrong, to show them that they could make a difference.
When they discover hidden weapons at the mine, weapons that Roger, the man heading up the mine, says is for the protection of the workers, along with ingredients that could be used to make bombs, the pair both begin feeling like something was off. When a mysterious man warns them away from the mine, they instead dig deeper to get to the bottom of the mystery.
The book started off a little slow, but once the action picked up it didn't stop. It was full of twists, and I was never quite sure who at the site was in on the sabotage until it was revealed. Everyone's suspicious in their own way, which made it difficult to pinpoint who it was. I also liked that while Warren and Nicola had a budding relationship, it wasn't the focal point of the story. The focal point was what was going on at the mine and why, which really helped the story move along without being sidetracked by their relationship.
The author's knowledge of mining and the how the equipment works was impressive, as well as her understanding of makeshift communities that surround mining sites. It was clear that she really knew what she was talking about.
If you're looking for an action packed story with a bit of romance thrown in, Short Fuse by Rebecca Crowley might be for you.

Book Info:

Publication: July 28, 2015 | Samhain Publishing | Elite Operators #2
As Nicola Holt, head of social and corporate responsibility for Garraway Gold, takes her seat on a flight to central Africa, she's excited about making a real difference in a country recovering from civil conflict.
And a blood-pumping bonus? The hot guy she spotted at the gate isn't just her seatmate, he's her ride to Garraway's Hambani mine. He's also a gentleman, as she discovers when he deftly takes care of a couple of unruly passengers.
Explosives expert Warren Copley is headed for a private contract job in his least favorite industry—gold mining—thanks to a temporary suspension from South Africa's elite tactical police division, the Special Task Force. But even the darkest clouds have a silver lining, and this one comes in the form of the easy-on-the-eyes redhead who turns out to be his coworker.
As soon as they touch down they realize Hambani isn't on an even keel. In fact, it's balanced precariously on the machete-edge of complete destruction. And before they can discover the combustible attraction between them, they'll have to escape with their lives.
Warning: Contains two strong-willed individuals, a country on the brink of collapse, and a powder-keg attraction with sensual, explosive results.