Split by J.B. Salsbury: Shyann needed to get out of her small, mountain town after losing her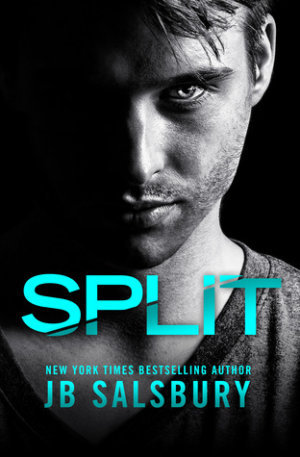 mom. It was impossible for her to process that loss when everyone was so aware of what had happened. She headed to college and was determined to hit the big time as a reporter. When she made a mistake, she had no choice but to head home and re-group. Swallowing her pride and working in the family business again was her only option.
Luke has found his place in the small community of Payson. He's a creative artist with a gentle soul and has a deep need to protect others. He's afraid of getting close to anyone with his history of blackouts and memory gaps. He's found good work and people who don't seem to pry too much. Luke has a past that he knows from experience that he can't outrun, so deliberately keeps to himself as a form of self-protection.
Shyann is intrigued by Luke. He seems to be quiet and a bit of a loner. She feels connected to him through his own loss, but she also feels challenged when he is so determined to avoid her. Avoiding Shy is impossible since they work for the same business. He's reluctantly drawn to her and struggles to handle her questions and what she makes him feel.
"If I did something to upset you-"
"You didn't, I'm…I'm not good with-" he waves his hand back and forth between us-"this."
"This?"
"Small talk. Or any kind of talk. I'm not good with people."
Shy is very persistent. When she sees something she wants, she just doesn't give up. With the palpable chemistry between them, Shy manages to crack Luke's shell and gets to know him. Their relationship has plenty of ups and downs as Shy comes to learn his secret.
I shove the money at her. "Doesn't feel right. Let me."
Her eyes narrow. "If you pay, it'll feel like a date." The way she looks at me with an eyebrow raised in challenge makes me heart thunder in my chest.
I want this to be a date. I pass her the money and she takes it, a soft blush coloring her cheeks.
"Thank you."
Split is an intriguing tale with surprises, drama, suspense, heat, and healing. JB Salsbury created complicated characters that you want to find happiness, love, and understanding. Ms. Salsbury wrote a well-paced story with good character development. Fans of Molly McAdams and Marquita Valentine will enjoy Split.
Book Info:

Publication: November 15th 2016 | Forever |
JB Salsbury is a New York Times and USA Today bestselling author who has captivated readers around the world. Her unforgettable new novel is a story of romance and suspense, with a twist no one will see coming . . .
What do you do when you wake up with no memory of what you did last night?
Lucas spent the first half of his life protecting himself from others, but now his own mind is his biggest enemy. He doesn't know what happens when the blackouts overtake him, but he can recall the feelings–the rage, the confusion, the fear. Thankfully the quiet life he's found in Payson, Arizona has kept the darkness at bay. Until his boss's estranged daughter shows up in town, asking questions she shouldn't and sparking a desire Lucas can't control. Getting close to Shyann is the best thing that's ever happened to him, but when his blackouts return, unleashing the truth he's battled so long to hide, he may just lose her forever . . .