In Sugar Pine Trail (Haven Point #7) by RaeAnne Thayne, After years of taking care of her parents and everyone around her,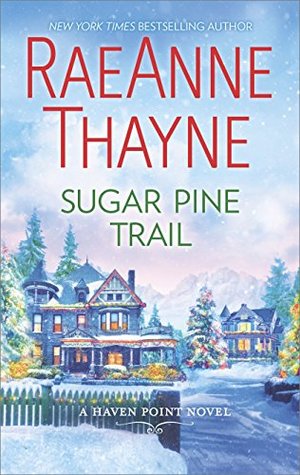 librarian Julia Winston is free to do anything she pleases for the first time. Although it also means she's alone for the upcoming holidays. Armed with a bunch of ideas on how to expand her horizons and how to give back to the community, Julia sets off to make it a great Christmas season. Her world is shaken to its core, though, when two events happen simultaneously: hunky pilot Jamie Caine temporarily moves into the upstairs apartment in her huge house, and she finds herself taking in two wayward young boys who have nowhere else to go. Before she realizes it, Julia falls deeply in love with the whole lot of them–Jamie, Clint and Davy–and knows she'll likely end up with a broken heart before it's all said and done. But it will be worth it to know she gave them the love and attention they all deserve.
"I'm constantly worried that just when they have begun to feel comfortable here, they'll be shuttled somewhere else."
"Whatever time you have with them, you're making a difference. Remember that. Your impact on their lives won't be in vain, whatever happens. They will never forget how you rescued them."
Jamie figured that renting an apartment from quiet Julia would prove to be pretty uneventful. With his job flying executives for Caine Tech coast to coast he probably won't even be there much. But he feels a strong connection to his prim and proper landlady that baffles him. So when Julia takes in young Davy and Clint and appears to be in over her head, Jamie doesn't think twice about helping. He soon becomes wrapped up in the little world they've created together and can't wait to see his sexy librarian and her two little hooligans every day. But that in itself gives him pause. Jamie has purposefully avoided emotional entanglements after learning a tough lesson years ago. And everything about Julia and the two boys has complicated written all over it. Is it time to give a relationship a serious try again? Or would everyone be better off if he stayed true to his just-keep-it-simple rule?
"See? You're doing it again. Trying to distract me by throwing out your Jamie Caine mojo."
He laughed. "Is it working?"
"I don't know," she said, her tone exasperated. "I'll tell you when I can think again."
That was it. He had to kiss her.
As I would expect from RaeAnne Thayne, Sugar Pine Trail was a heartwarming, feel good romance that captured everything I love about the holidays. From seeing the wonder of the season through children's eyes to a sweet romance blossoming to the happiness of being with family and friends, this book brought out all the feels and then some.
'How had these two boys managed to tangle their fingers around his heart?'
I truly look forward every year to seeing what holiday stories RaeAnne Thayne will be releasing, knowing they'll be the bright spot on my TBR. Always full of heart and genuine emotions–plus wonderful small town charm of course–I inevitably will laugh, cry and happy sigh my way through it all. And that was definitely true with Julia and Jamie's journey. There were a few darker moments as we learned of what they both had been through over the years and then with young Clint and Davy's situation, but like with all of Thayne's work, there was a sense of hope present that softened those darker edges. Although I will admit to having tears streaming down my face at what those poor little boys had been through and how resilient they were. *sniff sniff*
Jamie and Julia were, on the surface, an opposites attract couple. She was a supposed mousy librarian and he was a charming ladies man. But it turned out that they had quite a bit in common, both being extremely caring and generous people who were loyal almost to a fault. Without getting into the specifics of their background, Jamie had been deeply hurt quite young and felt like he had let two important people down and had lived with the guilt for years. Julia was a do-gooder who had lived her life for others and was now realizing she had the opportunity to do what *she* wanted for a change. I loved watching the progression of each of them growing as individuals, watching Julia spread her wings, as well as care for Davy and Clint, and of course I adored seeing them become a family of sorts. They all did their fair share of pushing each other away at times, but it felt like it was their own honest reactions and not done out of pettiness.
With an ending that was both bittersweet and completely sigh-worthy (and just look at that gorgeous cover!) Sugar Pine Trail started off my holiday reading in the best way possible. I think readers will love every moment spent with Julia & Jamie, Clint & Davy, and the rest of the wonderful folks in Haven Point.

Book Info:

Publication: Published September 26th 2017 | HQN Books | Haven Point #7
An unlikely attraction brings comfort, joy and unforgettable romance this holiday season!
Librarian Julia Winston is ready to ditch the quiet existence she's been living. She's made a list of new things to experience, but falling for Jamie Caine, her sexy military pilot neighbor, isn't one of them. Julia's looking to conquer life, not become the heartbreaker's latest conquest. But when two young brothers wind up in Julia's care for the holidays, she'll take any help she can get—even Jamie's.
Happy to step in, Jamie reveals a side of himself that's much harder to resist. Not only is he fantastic with kids, he provides the strength Julia needs to tackle her list. She knows their temporary family can't last beyond the holidays, but the closer she gets to Jamie, the more she wonders if things could be this merry and bright forever…