Taming the Takeover Tycoon by Robyn Grady: Becca knew Jack Reed was ruthless, but this just seemed beyond him. Yes, Angelica Lassiter had gotten a raw deal from her father, but Evan was running Lassiter Media perfectly. Now Jack was going to use Angelica to get his foot in the door and start a hostile takeover – and when he did things like that –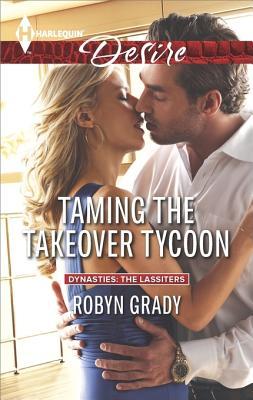 companies didn't emerge unscathed. They usually ended up broken up into tiny pieces, never to be heard from again.
Jack had his own motives for pursuing Angelica's takeover bid of Lassiter Media. If pressed, he'd admit that some of them were exactly what Becca Stevens thought they were. However, there were other reasons. Angelica definitely wanted what should've been hers in the first place, and J.D. had wanted Jack to help her.
So, Becca set up a deal. She'd show Jack all the charity work she coordinated for the foundation, and if he could stomach taking apart the company after that – well then, he had no soul and she'd have to throw in the towel.
The hitches:
1. Becca didn't count on Jack's sympathetic looks when he thought she wasn't watching.
2. Jack didn't realize it would be so difficult to keep his secrets to himself.
3. Neither of them expected to be ambushed by the press.
4. And they DEFINITELY didn't expect to find each other so hard to resist.
I haven't been this thrown off by a HQ series book in a long time. I was already loving the story, but then it just kept getting better as it got nearer to the finish line. It wasn't perfect – I thought the relationship seemed a tiny bit rushed – but overall, it was a really good read.
I find myself anticipating how the story between Angelica and Evan will resolve, considering how tension-filled they left things between them in this story. I'm sure I'll find out in the next book in the series – "Reunited with the Lassiter Bride" – book 7, the final book in the Lassiter Dynasty series.
Book Info:

Published August 1st 2014 by Harlequin Desire Series #2318
Jack Reed spells trouble. But has trouble met its match?
The business world trembles at the mere mention of Jack Reed, but Becca Stevens has no such fear. Her pleas for him to end his hostile takeover of Lassiter Media should be laughable. Yet there's such sincerity in her eyes, such a light his own life seriously lacks. Becca wants to show him just what his ruthless quest is costing others. And he goes along with her plan, seeing it as the perfect opportunity to woo her into his bed. But is he walking right into her trap–one that neither of them will want to escape?