Tell Me That You're Mine by Victoria De La O is the story of Ryan McCallister. He has just returned home from a year abroad after his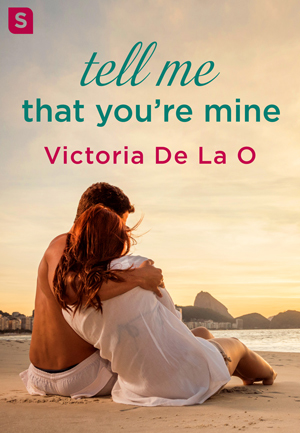 girlfriend and his older brother got together. He finds they're now living together and feels he has no choice but to move out. He meets his new landlord, Eva Romero.
Eva is a single mother to a six-year-old son, Diego, and has an ex-husband with mental health issues. She wants to keep Ryan at arm's length, but the more time he spends with Diego tutoring him, the more she finds herself letting him into their lives.
Ryan has a stutter, and Diego is having difficulty learning how to read. The pair quickly bond because of this. I enjoyed their relationship and how invested Ryan becomes with helping Diego with his reading.
I thought Eva was a little too invested in trying to help her ex with his mental issues. It was understandable that she wanted to help, but she acted as if he was her responsibility, which he wasn't. And when it became clear that Marco was becoming more and more unstable, I thought she should have taken steps earlier than she did to make sure Diego was protected. I did feel bad for Marco though. His mother seems to be in denial as to how bad he is, which was sad but happens all too often in real life.
I haven't read the previous books in the series, one of which was the story of Ryan's brother, Jude. While this works as a standalone, I wish I had read that book first to get a better understanding of what happened between Ryan, Lizzie, and Jude. There's lingering tension between the brothers because of it. Considering that Jude got Lizzie, I didn't care for how he reacted when he found out Ryan was dating Eva. He should have been happy that Ryan was finding his happiness after everything that happened, but instead he was angry about it and rude towards Eva.
Tell Me That You're Mine is about moving on, forgiveness, and learning to let go. It's an enjoyable story and I recommend giving it a read.

Book Info:

Publication: August 29, 2017 | Swerve | Tell Me #3
Ryan McCallister is ready to come home and put the heartbreak of his first love behind him. But when he returns after teaching abroad, the home he once knew isn't quite ready for him. The woman Ryan once loved is living with his brother; his friends have moved on; and his new landlady, Eva Romero, seems determined not to like him.
But Ryan likes Eva. A lot.
It doesn't matter that Eva has a six-year-old son and a troubled ex-husband; when Ryan's with her, everything makes sense. Eva isn't convinced she's ready to take another chance on love, but Ryan's determined to show her he's worth the risk.