The Claiming by Tara Sue Me: Sasha has come a long ways. After finding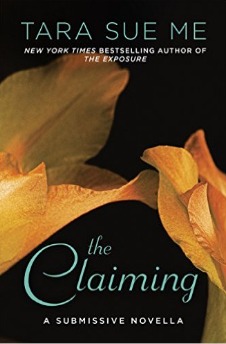 the courage to be submissive again, she's now found passion, safety, security, trust, and love with Cole. They are committed to each other and happy in ways that they didn't necessarily expect before Cole was put in charge of her retraining. Sasha is settled in the States, but Cole has the opportunity to purchase his childhood home…in England.
"Not entirely, Sir."
He remained motionless. "Not entirely? Then Sasha, I haven't been doing my job properly."
"I didn't mean to insinuate-"
Cole plans a trip with Sasha and their friends to see his family home. It's an opportunity to reinforce their relationship and just enjoy each other. Of course, Cole has the whole trip planned out with games, role plays, and plans a surprise for Sasha along the way.
"You're with me, which automatically means I'm happy. The location doesn't matter."
"Just wanting to know if I should be prepared to slay dragons for you this week."
"Little one. Don't you know?" He brought her hand to his lips for a quick kiss. "You already have."
The Claiming is a sexy exploration of a couple after they find their HEA. Tara Sue Me continues to develop a strong couple who bring out the best in each other. Ms. Sue Me highlights the strong bonds and friendships among all of the characters. The Claiming continues Cole and Sasha's story from The Master, but it could be read as a standalone. Fans of J. Kenner, Jessica Clare, and Lorelei James will enjoy The Claiming.
Book Info:

Publication: September 20th 2016 | InterMix | The Submissive Series
The New York Times bestselling author of the Submissive series returns to the story started in The Master with a tantalizing new novella about passion, play, and possession…
Submitting is just the beginning…
Sasha Blake never thought her emotional wounds would heal—that they were a part of her just like her physical scars. But that was before Cole Johnson's boundless love and overwhelmingly sexy control set her free, unleashing a confident side that she never knew she had. He's more than just her Master; he's her world. And she'll do anything he asks…
Cole's days of restless wandering are done—he's found everything he needs in Sasha. Now, it's time to make it official. When his childhood home in England goes up for sale, he realizes the old estate is the perfect place to claim Sasha as his own, and the ideal opportunity to show her just how much she means to him.
As Sasha, Cole, and their closest friends from their Partners in Play community descend on the British countryside for a titillating adult vacation, the submissives and Dominants alike will test their boundaries—and have an adventure none of them will ever forget…
Includes a sneak peek of the next Submissive novel, The Exposure!