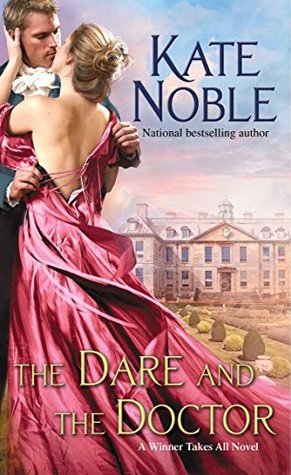 In The Dare and the Doctor (Winner Takes All #3) by Kate Noble, Miss Margaret Babcock may not have many friends but she can count Dr. Rhys Gray as one of her dearest. They started out as shy acquaintances last year, but since then they have become closer after taking up writing frequent letters to each other. So when Margaret has a chance to visit Rhys in London to present her horticultural findings, she remembers her dear mother's daring advice: 'What's the worst that could happen?' and takes him up on the offer. Little did she know that their friendship would soon evolve into something much more passionate–and complicated.
'Why couldn't she and Rhys just have their own bubble, where they didn't have to listen to people who questioned their friendship?'
Rhys treasures his friendship with Margaret immensely but doesn't understand why others are insinuating there is more between them. He knows his future, at least who he will marry, is not really his own decision to make if he wishes to keep the peace between his family and their country neighbors. So Rhys is surprised to find that as he spends time more closely with Margaret, he begins to envision a future for them together. He's not sure how to appease everyone involved. Least of all himself. But when a scandal takes London by storm, he'll be forced to make a decision whether he's ready to or not.
"You cannot know what you are asking. What you…what you want."
"Rhys," she said, her eyes growing suspiciously shiny. "You have never, not once, made any assumptions about my intelligence. You've never treated me like a naive child. So please don't do so now. Why wouldn't I know what I want? I'm a human being. I have a heart, and I know its wants." She took a deep breath. "I have a body. And I know its wants too."
What a fun and lovely Regency romance The Dare and the Doctor turned out to be. A friends-to-lovers trope dominated by intelligent bantering and two offbeat protagonists, I can honestly say that I was instantly taken in by this book.
Now I haven't read the previous two novels in the Winner Takes All series but that didn't make it difficult to read this installment at all. Admittedly there are quite a few characters to keep track of–Rhys had a large family–so it took a few chapters before I was confident in the specifics. But I thoroughly enjoyed every character we met here. They all had a purpose within the plot and were very realistic and well-developed. What I really got a kick out of was Rhys's siblings and how loud and boisterous they were. They made me chuckle just about every time they were in a scene with him.
Margaret and Rhys were quite an interesting pair. They were both very smart, being much more comfortable with academics than with society, which led to some awkward situations. Although it meant that they were comfortable in each other's company which was great. I thought they had a genuine connection and could understand their confusion over what to do about their feelings toward one another. Rhys was in a rough spot, not wanting to let his family down, which was admirable. But it felt inevitable that he and Margaret would find a way to be together. And I love it when a romance has that feeling of rightness to it. Especially when the lovebirds start off as friends and it grows into something more. *sigh*
With a lively cast of characters, a solid plot, and a memorable 'field trip' to Greenwich that changed everything for Rhys and Margaret, I would highly recommend The Dare and the Doctor to historical romance fans.
Book Info:

Expected publication: November 22nd 2016 | by Pocket Books | Winner Takes All #3
With writing that is "nothing less than brilliant" (Booklist) comes the third in the witty, sexy Winner Takes All series from Kate Noble!
Dr. Rhys Gray and Miss Margaret Babcock are friends—strictly friends. But over the course of the year, as they exchange dozens of letters, they share personal details that put them on the path to something more. When Dr. Gray helps Margaret realize her dearest dream and she comes to his defense in the uproar that follows, it seems that their connection cannot be denied. But will their relationship stand the scruples of society and jealous intendeds, or are they destined to be only friends, and nothing more?
The perfect novel for fans of Regency Era romance, The Dare and the Doctor is a clever and passionate love story worth sharing.