In The Italian's Vengeful Seduction (Claimed by a Billionaire #2) by Bella Frances , Marco Borsatto believed the rumors that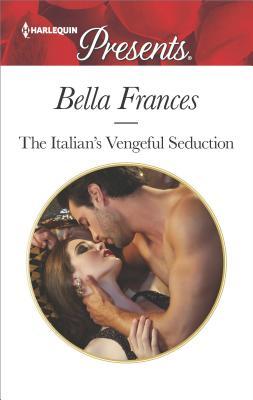 circulated about Stacey Jackson when they were younger, which broke apart the special bond they once had. Now though, she's back in his life and there's no way he's going to let her go a second time, no matter how high her walls are to keep him from getting close. Will Marco be able to convince Stacey that they deserve a second chance at love?
He barked out a laugh. "Still at it, Stacey? Still opening that mouth and firing out your poison darts? You still think that'll fix all your problems, honey?"
"Don't 'honey' me. I'm not your honey."
"Ain't that the truth? You're no one's honey, are you? That would require you to be soft and sweet. You might look like butter wouldn't melt, but all you want to do is bite people's heads off. You know, I've been with you less than three hours and already I can feel my cortisol levels are sky-high. I live a pretty full-on life, and yet I haven't felt this much stress since the last time I saw you – ten years ago – do you know that?"
Having really enjoyed the first book of this series, I couldn't wait to dive into this one after reading the blurb, because the heroine sounds like she'll be feisty and a tad reticent. And certainly, she doesn't disappoint since she's exactly like that. Right from the beginning, this story had me hooked due to how the hero and heroine meet and the fact that it is a second chance romance. How could Stacey be so irresponsible and not watch where she was going? Why was she running from someone in the first place? Will the hero be able to help her?
The dialogue was intense due to the history between Marco and Stacey and the main characters back stories. The heroine is keeping a secret from Marco that could very well change his opinion of her. Since they seem more enemies than friends the moment they come face-to-face for the first time in this story, even though they were close when they were younger. Will Marco be able to forgive Stacey since they've spent so many years apart when they could have been happy together? Will Stacey be able to help Marco get back the thing he wants most?
"This sarcasm is a new and even more unattractive trait."
"Even more unattractive than I already am? Wow. I've hit pay dirt."
"Enough."
He had stopped the car outside a huge pair of gates. He pulled on the brake so quickly that she slammed back in her seat. For a second they both froze, and in the startled moment that followed she thought she saw a flash of concern and an apology hovering at his mouth.
As for the main characters, I was absolutely charmed by Marco. He has every right to act the way he does towards Stacey because of what she did. How could she deceive him like she did? I also liked how kind and caring he was towards Stacey and everything he did for her, despite the fact that she's so standoffish towards him and doesn't want anything he has to offer at first. Why is she so unwilling to accept help? Why is she so afraid to return to her hometown? While Stacey, it was hard not to like her, despite the fact that she's so aloof; almost cold towards Marco. He's the one person that treated her with a semblance of decency in her past, and I liked that when she finally warms up to him that she does all she can to show him that same civility. Because he deserves to have everything he wants including the one thing she can help him get.
Overall, Ms. Frances delivers a really good second chance romance in this book about finding forgiveness and achieving what the two main characters deserve most in their lives — love and happiness. The way this story ended left me with a smile on my face because Stacey finally faced her past and Marco's friend Dante finally made him realize what mattered most to him and how Marco shouldn't be denying himself of what would truly make him happy – Stacey. I would recommend The Italian's Vengeful Seduction by Bella Frances, if you enjoy second chance romances that encompass a standoffish heroine that has her heart of ice melted by the hero's warmth.

Book Info:

Publication: April 18th, 2017 | Harlequin Presents | Claimed by a Billionaire #2
His tantalizing revenge!
Tycoon Marco Borsatto gave Stacey Jackson her first taste of pleasure…only to devastate her with accusations of treachery. Ever since, waitress Stacey has buried any hint of vulnerability behind a cool facade–she refuses to open herself up to hurt again.
Except Marco isn't a man to forgive and forget! When he rescues Stacey from another man, one look at Stacey's luscious form is enough to remind him of her bitter betrayal–and their electrifying magnetism!
Marco won't allow Stacey to slip through his fingers again: his touch will be his vengeance!