The Long Way Home by Kathleen O'Brien: At seventeen or eighteen can anyone really say they know the future, or what they will want out of it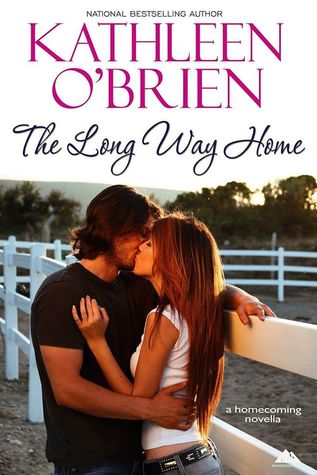 forever? Some are lucky and some do, most however have no clue what life has in store for them, how to reach it or how to deal with it.
In the Long Way Home we are first greeted by two teenagers who really have no idea what the future will bring and yet they chose their paths then eight years later they are reunited and their futures are still questionable. What will happen, no one really knows but as adults they know more and more.
This is another of the Marietta Homecoming series but can be read as a standalone novella.
Ms. O'Brien uses her words carefully and we are given a wonderful story of loved redeemed quickly. Everything is well thought out and the reader is given a very visual picture of what is going on. If there is a complaint it's only that we weren't given more. Looking forward to the next of Ms. O'Brien's works.
Book Info:

Published October 2nd 2014 by Tule Publishing
At eighteen, Abby Foster had been the cutest little rich gal in Marietta, Montana. She could make boys do whatever she wanted—especially sweet, wild, penniless Joe Carlyle, who adored her. But a lot's changed in the eight years since Abby broke Joe's heart by marrying the rich guy her domineering father chose for her. Her father has died, and the "perfect" husband has bolted, taking all the money. More importantly, Abby's grown up. She's vowed to stop listening to other people and follow her own heart instead.
Right now, her heart tells her to return to Marietta. The wildfire she felt in Joe's arms has haunted her, and, though she doesn't expect forgiveness, she hopes maybe he, too, would enjoy a brief, no-strings affair. If they can share just the seventy-two hours of Homecoming weekend…well, maybe then they'll both find it easier to forgive, forget, and move on.
But when she sees him, she realizes how naive that idea was. The years have changed Joe, too…and the passionate, powerful man he's become isn't someone she'll ever forget. This time the heart she breaks may be her own.