In Make You Remember (Dumont Bachelor's #2) by Macy Beckett, Devyn was left broken hearted 10 years ago by her high school boyfriend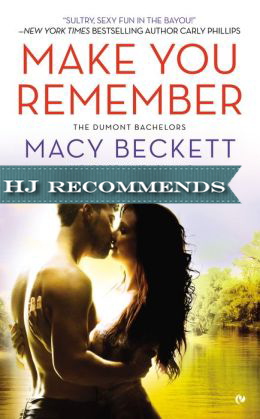 Beau. Devyn has never truly gotten over him or the hurt, and suddenly he is back in her life and she finds herself working for him on his family's riverboat. Devyn is determined to do a good job, but not to do Beau…no matter how much she is still attracted to him.
Beau is a former Marine, former security specialist, now partner on a Mississipi riverboat with his brothers. His family is complicated, and his relationship with his brothers is strong. But he has always regretted leaving Devyn. Now he's back, far from the boy he was in high school…if only Devyn could see that and forgive him so they can start again.
They can't help but be around each other on the riverboat, and the chemistry between them continues to build and sizzle. As they get to know each other again, discovering parts of the past hidden away, Beau finds he wants it all with Devyn. But with not only their personal history, but their family history and a legendary curse, will Devyn be willing to risk her heart on a second chance romance with Beau?
I really enjoyed Make You Remember! Macy gives us strong, memoriable characters who will make you want to laugh and cry! Devyn is independent and full of spice. She's never truly settled, and she struggles to get by. Believing in her family's legendary curse and voodoo, she's struck me as a bit of a free spirit. Macy's description of Beau is perfect, I can see him…the boy he was and the man he is. Macy really brings her characters to life, and by the end of Make You Remember I felt like I really knew them.
I love the setting, the Bayou, and the riverboat cruise. All of these combined made up a realistic, easy to visualize place in a fast paced, easy to fall into book.
The secondary characters, mainly Beau and Devyn's families, along with the legend of generations past, helps spice up the plot, adding intriguing layers. All of these are integral to the relationship that Beau and Devyn are struggling to build. I liked the carry over of characters from the first book in the Dumont Bachelor's (Make You Mine), but at the same time feel that Make You Remember can easily be read as a stand alone.
Macy writes an entertaining, saucy second chance romance romance filled with feeling in Make You Remember and I'd recommend Make You Remember to any contemporary romance reader.
Book Info:

Published November 4th 2014 by Signet | (Dumont Bachelor's #2)
Ten years ago, Beau Dumont made the biggest mistake of his life by letting his high school sweetheart, Devyn Mauvais, slip through his fingers. Now the reformed bad boy will stop at nothing to get her back. Even if it means tricking her into taking a job on his family's riverboat, The Belle of the Bayou.
When Devyn's old flame offers her a stint at the boat's day care center, she sees it as a chance to prove she isn't just the descendant of Louisiana's most infamous voodoo queen. Besides, it beats leading ghost tours around New Orleans. Yet when it comes to Beau, Devyn's all business. She won't give the sweet-talking playboy another chance to break her heart.
But there's no escaping temptation in such close quarters, and Beau won't be satisfied with a few hot nights with the girl he's always loved. As he strives to make Devyn remember the good times, will his passion and heart be enough to regain her trust?