The Lost Sheenan's Bride by Jane Porter: What happens when your past haunts you so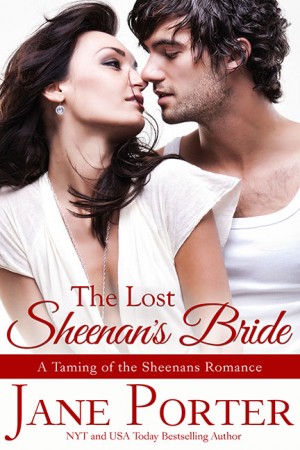 much that not only has it formed who you are it has made you so narrowly focused that nothing can change your course of direction?
Jet Diekerhof came from a big loving family and while she wasn't ready to settle into a dairy farmers life she still craved being close to family and having that big loving cushion to fall back into. So when she needed a job and some family it was kismet when her big sister found her a teaching job close to her and her new family. There was something almost too good to be true about it.
Shane Swan, or at least that was what he was currently going by, knew that "families" came and went. He was a loner, maybe not by choice in the beginning more by circumstance, but he knew. He was just not destined to have the big loving family thing. He was too damaged, too hurt by his past. That was why he was determined to lay the ghosts of the past to bed.
Can Jet help Shane bury the past and start looking for the future or will Shane just end up being too stubborn to see?
This is a very bittersweet novella. It's the end of the Sheenan saga and while the story gives a good ending for the story it leaves open loose ends for the series and makes a reader wonder if this is really the end or if it's an opening for a new series to come about. The plot in this one seems a bit rushed but it has a lot of ground to cover in only a few pages. Everything is so descriptive though it's almost as if it comes to life and you just "know" what's taking place without Ms. Porter spelling it out. Shane may be one of her most complex characters though and I love what she is able to do with him. This is definitely a heart tugger and a quick read.
Book Info:

Published July 8th 2016 | Tule Publishing | Taming of the Sheenans #6
Trying to get over a broken heart, twenty-four year old teacher Jet Diekerhof takes a gap year to travel and have an adventure. Her practical farming family is horrified until Jet's older sister Harley gets her a long term sub position at a one room school house in Montana's Paradise Valley. Jet's grateful it's 775 miles from her overly involved family—and the guy who broke her heart. She's also sworn off men until meeting darkly handsome Shane Swan changes everything…
Thirty-four year old Shane Swan has been an outsider since birth. Raised by his maternal grandmother near Flathead Lake, Montana, until her death when he was four, meant he ended up in foster care. But ever smart, determined, and ambitious, Shane has become one of the most successful writers in America. Yet none of his success has answered the burning question: why was he the one given away, and his brothers kept? Now Shane has moved to Marietta to unravel the secrets and lies and what it means to be a Sheenan, and nobody is closer to the Sheenans than Brock's young sister-in-law, Jet.
Normally Shane would never use a woman, but if Jet can connect him with the keys to his past, he doesn't seem to have choice. Until he begins to fall for her. Can two strangers, who were never meant to be, believe in love again?