In Phoenix (Texas Rebels #5) by Linda Warren , being the youngest of the Rebels, Phoenix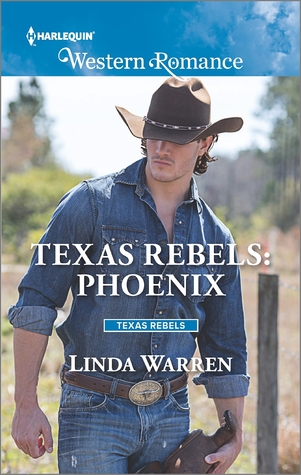 has always had it easy. But when he learns he's the father of a young boy, he's determined to do what's right by his child. Too bad he doesn't have a woman by his side to guide him. Since the one woman he wants is the last woman he can have, as she's a McCray and the daughter of his family's enemy.
"She must be younger than me, because I don't remember her in school."
"Yeah. About four years, I think." Paxton nailed him with a dark stare. "Why are you curious?"
"I don't know. There's just something about her. She seems so sad."
"Is that why you laid into her like a crazy fool?"
Rosemary McCray loves her life, now that she's finally out of the horrible marriage she was forced into. She's not living like a queen, but at least she's free to do what she wants. Rosemary knows giving Phoenix a chance is a big no-no, especially when their families have been enemies for years, but he's the first man to make her feel something other than antagonistic towards the male species.
I love a good enemy to lovers' story, and Ms. Warren has penned an incredible read in this fifth book of her Texas Rebels series. Right from the beginning, the dilemma the hero is facing drew me immediately into the story. Will he be able to connect with his son? Will he make a good father? However, it was the moment that Phoenix and Rosemary came face-to-face for the first time that had my eyes glued to every word wanting to discover more about the history between their families and what made them enemies.
The dialogue was compelling, and I loved every moment that the hero and heroine conversed. Phoenix is intrigued by Rosemary, and there's no way he can stay away from her. What is it about her that makes him go against his mother's warnings? Then there was the growing relationship between Phoenix's son, Noah, and the heroine. I felt sorry for her because of everything she's lost in past, and it's no wonder she's so good with the little boy. Not only is Phoenix her second chance at happiness, but so is Noah.
I absolutely loved both the main characters due to this being an enemy to lovers story. Their families have quite a harrowing history between them and I could understand Rosemary's hesitancy in getting involved with Phoenix since her family certainly wouldn't be happy if they knew she was in a relationship with the hero. Then again, it's not as if she should care after what they did to her. Yet, she does. She's still hoping things could be less hostile between her and those she loves. The fact that she's survived so much in her life shows how strong and brave she is. Really, if she hadn't have left her husband than her life could have ended up a whole lot differently.
While Phoenix, his life has been turned upside down when he learns he has a son, but the turn is definitely for the better. He's a wonderful father, considering he doesn't know the first thing about parenting. Besides, he has plenty of help from his family, even when he's determined to show his son that he's loved and will never leave him like his mother left. Moreover, I liked that he wasn't willing to give up on pursuing Rosemary, even when everyone – most especially his mother — was against a relationship between the pair. It's palpable that he needs her just as much as she needs him.
He held her for a long time afterward, gently kissing her and stroking her skin. "Are you okay?"
"I'm on top of the world, so you'd better pull me down before I float away."
He laughed into her throat. "That good, huh?"
"Like fireworks on the Fourth of July."
Overall, this was a wonderful stand-alone addition to the Texas Rebels series for Ms. Warren where the romance was heartwarming and proved that love can overcome any obstacle. The ending was perfect, as Rosemary realized that she shouldn't allow anything to hold her back from the man she loves. Besides, if she could just get the hero's family to give her a chance, there was no doubt she could win them over. I would recommend Texas Rebels: Phoenix by Linda Warren, especially if you enjoy the enemy to lovers trope.
Book Info:

Publication: August 9th, 2016 | Harlequin Western | Texas Rebels #5
THE COWBOY'S LAST RIDE
Once he gets over the shock of finding out he's a father, Phoenix Rebel is ready to do right by his toddler son. The gorgeous barrel racer he runs into on the circuit could add a much-needed woman's touch. There's just one problem. She's a McCray—a Rebel's worst enemy.
Rosemary could gaze into Phoenix's warm brown eyes forever. And helping the sexy bull rider and his adorable two-year-old has ignited a fierce yearning in Rosie. Somehow she and Phoenix have to find a way to create their own family—even if it means leaving everyone else they love behind…