The Player: K. Bromberg is one of my favorite authors, and The Player reminds me why. Her writing is powerful and vibrates with emotion,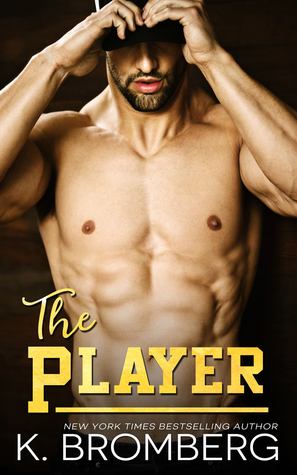 and I frequently highlight passages in awe of her talent. The Player is a sexy sports romance with a captivating and heartfelt story that delves into the complexities of the relationships between fathers and daughters and sons.
The Player is a duet and continues with The Catch; therefore, if you are squeamish about cliffhangers (I am) please be aware that this has one. BUT this cliffhanger does not leave hanging off the cliff's edge and holding on for dear life by one finger, so I didn't mind it. 
Scout Dalton is a sports physical therapist following the same career path as her legendary father, Doc Dalton. She's assigned to rehabilitate professional baseball player, Easton Wylder, and – in many ways – her father's legacy rides on her success in getting him back on the field. She's confident in her abilities, but things get complicated when she meets Easton and discovers that she is physically attracted to the enigmatic catcher.
"I look away in a desperate attempt to avoid his question and ignore the sudden hum of desire snapping within me like a broken power line twisting in the storm."
Easton is also following his father's footsteps, who is a baseball legend. A shoulder injury has put Easton on the disabled list, and his baseball dreams hinge on getting back on the field, quickly. He questions Scout's qualifications when they first start working together, but he begins to trust her as his therapist when she proves herself to be as talented as her father. He also discovers that he likes the prickly, slightly-cynical woman and wants to get to know her outside of the therapy room.
Scout and Easton have intense chemistry from the moment they meet, but both are under a lot of pressure in their lives and Easton's rehabilitation is the epicenter of a potential earthquake that would affect both of them in immeasurable ways. Their burgeoning relationship complicates matters, but they also both desperately need someone to rely on during this challenging time. Scout has a hard time opening up, but Easton is incredibly sweet and downright swoon-worthy.
There are a lot of heartfelt and gut-wrenching moments in The Player as both Scout and Easton navigate their relationships with their fathers while also falling for each other and dealing with their own careers. The reader will fall in love with the charming and sensitive Easton as he breaks down Scout's defenses and helps ease her fears, and they both need each other and find safe harbor together. Although their physical attraction is combustible, their relationship builds on the foundation of something far more profound than desire, because, and this makes their love story sigh-worthy and The Player a must-read.

Book Info:

Publication: 4/17/17 | JKB Publishing, Inc. | The Player Duet
Easton Wylder is baseball royalty. The game is his life. His passion. His everything.
So, when an injury threatens to end Easton's season early, the team calls in the renowned physical therapist, Doc Dalton, to oversee his recovery. Except it's not Doc who greets Easton for his first session, but rather his daughter, Scout. She may be feisty, athletic, defiant, and gorgeous, but Easton is left questioning whether she has what it takes to help him.
Scout Dalton's out to prove a female can handle the pressure of running the physical therapy regimen of an MLB club. And that proof comes in the form of getting phenom Easton Wylder back on the field. But getting him healthy means being hands-on.
And with a man as irresistible as Easton, being hands-on can only lead to one thing, trouble. Because the more she touches him, the more she wants him, and she can't want him. Not when it's her job to side in the club's best interest if he's ready to play.
But when sparks fly and fine lines are crossed, can they withstand the heat or is one of them bound to get burned?