The Rangers Texas Proposal by Jessica Keller the story of Josie and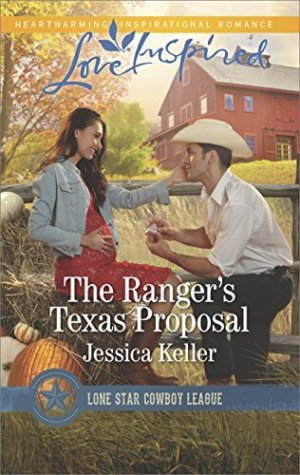 Heath, and also of the lives that are positively affected by the Boys Ranch Josie volunteers at.
Josie is a widow, who is expecting her first child; her pregnancy was detected after her husband passed away. So she is facing being a single mother, who is barely able to support herself- her husband was quite controlling. Heath comes to town, a Texas Ranger who is asked to investigate various crimes occurring at a boys residential ranch, for boys from troubled homes and diffic ult family situations. Because his father lost his life at the same ranch, Heath has preconceived ideas about the boys living there. Josie and the other adults who support the ranch must convince Heath to overcome his biases in order to see the true, loving nature of the boys at the ranch; these are boys who really want to be loved, who want to feel needed, etc. Heath starts to realize this while teaching a sleuthing class to the boys. Heath also takes on a protector role to Josie- he has a soft spot for her given that she is facing raising her child by herself- he can identify with this due to his sisters' being a single mother.
I invite all readers who love a good romance to read this story. It's a story that also shows that family is not always blood, and that ones' fellow community members can truly come together as a family to care for each other. One of the most special bonds I enjoyed reading about was that of the boys for Josie. Every single boy on the ranch adored her and wanted to help her with chores, to be around her and her gentle and nonjudgmental ways. I encourage all fellow romance readers to pick this book up!
Book Info:

Publication: October 18, 2016 | Harlequin Love Inspired |
When Texas Ranger Heath Grayson agrees to investigate thefts at the boys ranch, he's also hoping to solve a decades-old murder case: his father's. Getting involved with pretty, pregnant widow and boys ranch volunteer Josie Markham is not on Heath's agenda. But the more time he spends with Josie, the harder it is to ignore their growing attraction. The somber ranger is convinced a wife and child are not in his future. But with a little help from the boys at the ranch, he may just realize a family is what he needs most of all.