In His Best Mistake (The Shilling Agency #6) by Diane Alberts,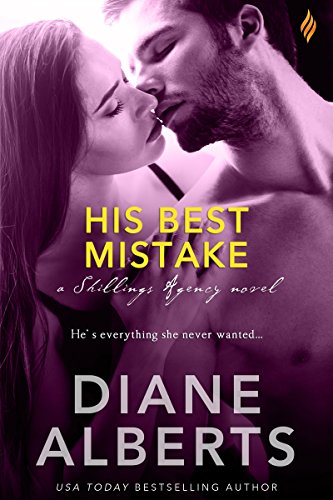 Daisy O'Rourke is in desperate need of a distraction. Sex with a stranger seems like the right idea at the time, but when their time together is over and they go their separate ways, how is she supposed to forget about Mark Meadows when her best friend is marrying his work colleague? Can Mark and Daisy find a way to be together, or will their fears of loving another have them running scared?
"Scarlett."
She choked on a laugh. "Seriously?"
"Yep."
"Is it the red hair?"
"Yeah. I've always had a thing for Black Widow, and she had red, curly hair like yours." He reached out and tugged a curl gently.
Although I enjoy Ms. Alberts books, I have not had the chance to read the other books of this series yet. So, it's a good thing all the books can be read as a stand-alone. Right from the beginning, this book had me hooked due to what the heroine is going through. She misses the man she loved so much and the anniversary of his death hasn't gotten any easier for her. Luckily, Mark comes along and offers her a distraction from her misery; a distraction she seriously needs before she does something stupid like end up with a massive hangover.
The dialogue was intense due to the main characters back stories. They've both lost someone they love, and it's been hard for them both. Daisy is still grieving, which makes her a loose cannon when it comes to her job as a cop; a statement that is proven by her injury and how she managed to achieve it. While Mark, he's had time to grieve. Yet, it doesn't seem enough time, as he became sole parent to an adorable little girl. However, there were some really good light-hearted moments between this pair that had me eager to get to every moment in the book these two conversed. Especially since they're both determined to ignore the chemistry that exists between them, yet find it impossible to do so.
I loved both the main characters, as well as the secondary ones. The secondary characters in Daisy's best friend believe Mark and Daisy would be good together and she's determined to set them up. Should Daisy confess the truth of what transpired between her and Mark? If she does, is she going to hear the words 'I told you so' from her best friend? But what I liked most about the secondary characters was learning whether they knew the truth of what was going on between the hero and heroine?
"In keeping with the Marvel theme, you'll be…Chris. Or Tom. Nah. Definitely Chris."
"Hold up." His interest in her kicked up about twenty notches. "Don't tell me you like superheroes. Or, even better, all of their movies…even The Avengers?"
"Guilty as charged."
"That's it, Scarlett. I'm keeping you. You don't have a choice. I found a beautiful woman who likes superheroes. That's the mecca of the dating world."
As for Daisy, she's strong, brave, independent and I enjoyed how much she loves her career. Protecting others is important to her because of things that have happened in her past, which made me understand why she's so dedicated. No one should be allowed to get away with a crime. While Mark, he's confident and a wonderful dad. He would do anything for his daughter, which means finding the right woman; someone that is going to be around for a long time to come, so his little girl doesn't lose another woman she gets close to. Certainly, Daisy isn't the right woman with her having such a dangerous job and him already losing one woman he loved to a dangerous career. Yet, there's something about her that makes it impossible for him to stay away. So much so that their strong chemistry eventually spills over onto the pages in scorching sex scenes that illustrate how right these two are for each other.
Overall, Ms. Alberts has penned a great addition to this series, of which I really need to read the other books, as I enjoyed the secondary characters almost as much as the main ones. The way this story ended took me by surprise with the way Mark almost ruined things between them. He was being too overprotective and if he didn't tone it down he was going to lose the best thing that happened to him. However, I liked what he did to make things right with Daisy. She needed to know that he trusted her when she was on the job. That she'd do her best to come home safe and sound. I would recommend His Best Mistake by Diane Alberts, if you enjoy the mysterious stranger trope; or a couple that do their best to fight their feelings, but find it impossible to stay away from each other.
Book Info:

Publication: October 3rd, 2016 | Entangled Brazen | Shillings Agency #6
One night with a stranger…
Single dad Mark Matthews is focused on making his daughter's life the best he possibly can. Between work and taking care of his little girl, dating and any kind of love life is off the table. That is until he meets the quiet but sexy Daisy O'Rourke, who is as secretive as she is beautiful. Now it's game on.