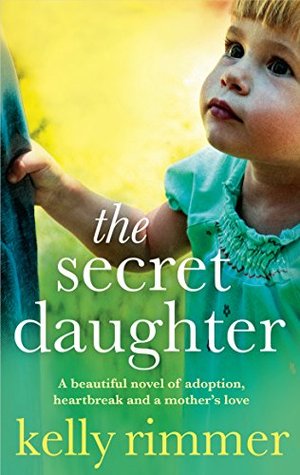 The Secret Daughter: A beautiful novel of adoption, heartbreak and a mother's love by Kelly Rimmer is a book that will take you on an emotional journey, through the emotions of multiple characters, at times it will break your heart, but this is a must read and I am so glad that I did.
Sabrina is 38 years old and pregnant with her own child when she finds out the earth shattering news that her parents are not really her parents. She was adopted and they never told her, never hinted at it. Feeling hurt, betrayed, and in need of answers, she searches for the truth and is blown away by what she discovers.
This book is told from Sabrina's perspective, her adopted mother's (Megan) perspective, and her birth mother's (Lilly) perspective. You find as the book unfolds the relationship between Lilly and Megan. My heart broke for Lilly. Choices were taken out of her hands. Decisions were forced on her. My heart broke for Megan. While I wondered at why she decided to wait so long to tell Sabrina, I had an "AH HA" moment and got it. Then there was Sabrina. The storm of emotions that she went through and the strength that she had made her an incredible character in this story.
I really enjoyed this story and although emotionally I was drained after reading this amazing book, it was worth every emotional moment, every heart wrenching turn of events. In my opinion this is one of those must read books and I am so glad that I did.
Book Info:

 June 18th 2015 | Bookouture |
As I saw my new-born baby's face for the first time I tried desperately to capture her face in my mind—to stamp it onto my eyelids. As she was taken from me I knew I might never see my daughter again.
37 years later…
'You were adopted'. Three short words and Sabina's life fractures. There would forever be a Before those words, and an After.
Pregnant with her own child, Sabina can't understand how a mother could abandon her daughter, or why her parents have kept the past a secret.
Determined to find the woman who gave her away, what she discovers will change everything, not just for Sabina, but for the women who have loved her all these years.
From the bestselling author of Me Without You comes another touching, beautifully told story about the pain of separation and the enduring strength of love.