The Secrets of Sir Richard Kenworthy by Julia Quinn: Generally speaking, when you see Julia Quinn's name on the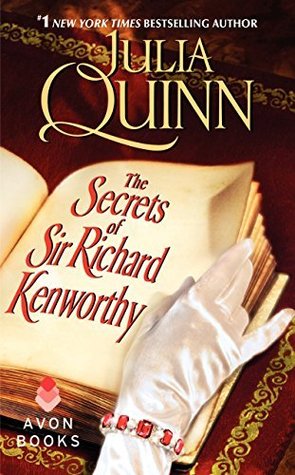 title of a book, it's a good sign that you are going to be in for an excellent time. I will admit that I am a huge fan, and have read every single one of her books. For once, I actually know the backstory, have read all the prequels and related books, and know the environment that this book derives from. This does give me a different insight than with books where I haven't read other books by that author or previous books in a series.
"The Secrets of Sir Richard Kenworthy" is part of "The Smythe-Smith Quartet" series. Through many of Julia Quinn's series the yearly Smythe-Smith musical is a running gag, where characters meet and romance to the non-musical strains of the "world's worst amateur musicians." The Smythe-Smith Quartet series stars these unfortunate musicians who know that their only release from performing is marriage. "The Secrets of Sir Richard Kenworthy" is about Iris Smythe-Smith, a cello player in this season's quartet, along with her sister and two cousins. They are, as usual, woefully bad, but Iris catches the eye of Sir Richard Kenworthy, a baronet from Yorkshire.
She was the type of girl one would never notice. And yet Richard could not take his eyes off her.… Miss Iris Smythe-Smith, she of the shimmering pale hair and too-large-for-her-body cello, had become his saviour.
Iris is a very pale red-head, and enjoys her unremarkable appearance and station in life. Intelligent and scathingly sarcastic, Iris is suspicious when a handsome landowner like Sir Richard begins paying special attention to her. Seemingly earnest, amusing and solicitous, he seems like the perfect catch for a girl with meager dowery like hers. However, his rapid courtship, and then evident compromise after a speedy proposal reeks of desperation. Despite this, Iris likes him, and even with misgivings, agrees to marry Richard.
Something awakened within her, a strange yearning, a hunger from deep inside that stole her breathe. Dear God, this was desire. She wanted him. She, who had never even so much as wished to hold a man's hand, wanted to know him.
Richard and Iris are well matched. Both are quiet, intelligent, and love their families. Iris is a rational thinker, which makes her a refreshing contrast to her flighty, emotional sister and mother. There is a point shortly after their marriage where Iris muses that "her gut told her all would be well, but she didn't really like to trust her gut." Iris' tendency to think rather than let her feelings lead her makes me think that although in the book Iris is re-reading "Pride and Prejudice" that she would be more suited to "Sense and Sensibility".
As for Richard, I liked the fact that even though Richard feels compelled to marry, he still chooses wisely instead of haphazardly. Because Richard is not a stereotypical rake he doesn't have to act like a charming jerk and then be "reformed"; he immediately feels a deep guilt and shame for compromising Iris into marriage. However, his secrets drive him to action, and you surmise that the secret must be very important for him to betray his morals. And that secret is very well kept! I was genuinely surprised when it was revealed. There are moments in the latter part of the book where Richard displays some unlikable tendencies, but I suppose, as in real life, that everyone has their faults.
I heartily recommend this book. If you are already a fan of Julia Quinn you will adore it; if Julia Quinn and the Smythe-Smith Quartet are new to you, you will enjoy the book, and then feel compelled to read the rest of the series.
Book Info:

Publication: January 27th 2015 by Avon
Sir Richard Kenworthy has less than a month to find a bride. He knows he can't be too picky, but when he sees Iris Smythe-Smith hiding behind her cello at her family's infamous musicale, he thinks he might have struck gold. She's the type of girl you don't notice until the second—or third—look, but there's something about her, something simmering under the surface, and he knows she's the one.
Iris Smythe–Smith is used to being underestimated. With her pale hair and quiet, sly wit she tends to blend into the background, and she likes it that way. So when Richard Kenworthy demands an introduction, she is suspicious. He flirts, he charms, he gives every impression of a man falling in love, but she can't quite believe it's all true. When his proposal of marriage turns into a compromising position that forces the issue, she can't help thinking that he's hiding something . . . even as her heart tells her to say yes.