The Texan's Forbidden Fiancee by Sara Orwig: The Milans and Calhouns are like the modern-day Montagues and Capulets, Jets and Sharks, Hatfields and McCoys… well, you get the idea. When Madison Milan and Jake Calhoun fell in love, they decided it would be best to elope – but fate had other plans.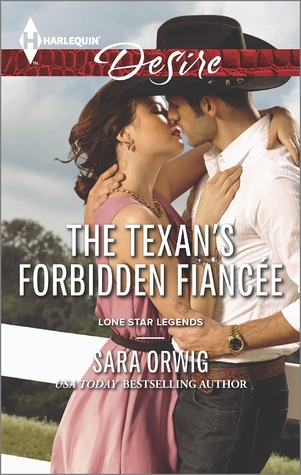 Now, all grown up and with more distrust than ever, Jake comes back into Madison's life again. This time with a proposal to search on her family's land for a treasure. Treasure that just may have started the feud in the first place. The site may contain gold, but also the bones of both Milan and Calhoun ancestors – both casualties in the fight over the murky land or money deal that went wrong all those years ago.
Madison – still wary of Jake's motives – decides to allow him and some of his men to collaborate and dig for the gold, as long as she can supervise. That leads to a lot of time spent together, and a lot of looking over shoulders from all the Calhouns and Milans. After all, Jake still wants to drill on her land, and even though this project doesn't seem connected, who knows what's in Jake's head?
And yeah, Jake has his secrets. Secrets about why he stood her up the day they were to run away together. Family secrets that he only found out about when he turned twenty-one. And the big secret that he's keeping from Madison about what also might be part of the stuff they're digging for. An item that would make leasing part of her land a moot point.
The only thing complicating their separate plans are their very common feelings for each other. Yes, it's been a long time, but it feels like they've never been apart. And spending all this time together is sparking old feelings that are hard to contain. As much as they both want to hate each other, can they hold out until the job is done and they can go back to their own lives? Somehow, they both doubt it.
I was really absorbed in this book. It's normal for me to read a book in one sitting, but this one seemed to go quicker than normal. That's a good thing. I found myself really wanting to find out what was going to happen next. You're probably wondering why I only gave it four stars then, right?
Well, here's the answer. It's the storyline about Mr. Milan. Granted, Ms. Orwig put her own spin on it, but I think the meddling father / uncommunicative couple is overused. That's just me though. I guess that's the definition of a trope, right? I just kinda wanted their youthful separation to be… i dunno, different?
But anyway – the main storyline was great, and the potential for the other siblings to have their own books was set up very nicely. Since Harlequin has designated this part of the "Lone Star Legends" series, I'm assuming that's the plan. I can't wait to read about Jake's sister. I think you'll like her if you decide to pick this one up.
Book Info:


Published June 3rd 2014 by Harlequin Desire Series #2308
One taboo Texan
After a century-long family feud, Madison Milan doesn't trust any Calhoun—especially Jake, the man who ditched her on the night of their elopement. But when he shows up claiming an heirloom map leads to gold on her ranch, she's swamped by steamy memories. She may not trust Jake, but she just might want him….
Jake will do anything to get what he wants—Madison's ranch. Consider it payback to the Milans. And Madison? She's collateral damage in their family feud. The confident cowboy has nothing to worry about…except falling for the forbidden beauty all over again….