In I Want To Hold Your Hand (Green Mountain Romance #2) by Marie Force, Hannah lost the love of her life 7 years ago when her husband Caleb was killed while serving in Iraq. Since then, she has rattled around their large home, making her jewelery and taking care of their dog, Homer. Unable to move on, Hannah hasn't been living, she's been surviving. Lately though,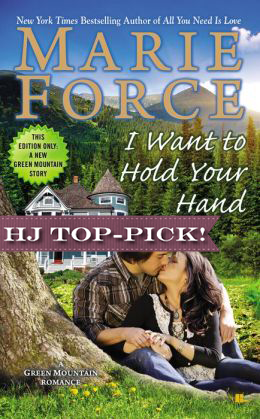 Hannah has been feeling the pull towards living more fully, and not being so alone. She is brave, strong, loving, and loyal. At the same time she is struggling with the guilt of wanting to move on, and worried about what people in her small town will think.
Nolan lost a very good friend when Caleb died. For the past few years though, he's become more and more attracted to Hannah in a way that's much more than the friends they've always been. He's thoughtful and patient though, he knows Hannah is not ready, but keeps the hope that when she is it will be for him. He also struggles with the guilt of wanting to be the one that Hannah moves on with, and for more reasons than Caleb being his good friend. Nolan hides his past well, sure that if anyone knows where and who he comes from they will not find him worthy.
As Hannah cautiously forges forward with her life without Caleb, it is Nolan who is there for her in all the ways that matter. Besides their history and respect for each other, somewhere along the way the chemistry between them has really started to sizzle! They have both suffered through loss. Together can they find a future? Can Hannah have true love again without betraying the memory of Caleb and what they had together? Hannah has a big heart with room for more than one love…and moving on doesn't have to mean forgetting.
Marie gives us a fantastic romance in I Want To Hold Your Hand with characters you will laugh with, cry with, and hope with. Hannah is someone you really want to see find happiness and love again. She seems to think of everyone else above herself, to the point of worrying needlessly about what everyone in town would think if she hooked up with Nolan. Nolan is patient, loyal and loving. He is just a great guy, the kind of guy every woman dreams of. I loved how Marie moved their relationship along. It was all about them and their feelings, about the difficulty of moving past a tragedy few have to experience.
There are a lot of secondary characters in I Want To Hold Your Hand. From the dog Homer to the Abbott family and everyone in between, who have so much to add to the story line, but never taking away from Hannah and Nolan's story. Marie pulls them all together, weaving them in throughout as Nolan and Hannah's back up. She does this effortlessly and smoothly, making you care just as much for the secondary characters as you will for Hannah and Nolan.
I loved everything about I Want To Hold Your Hand! The maturity of the characters make it all the more realistic, and Marie will make you feel like you are right there with them. The diary quotes from Hannah's diaries over the years really added even more, giving us little bits of background that was just enough.
I Want To Hold Your Hand deals with a wide variety of complex emotions and experiences that Marie writes very well about. I'd highly recommend I Want To Hold Your Hand to any contemporary romance reader who wants to get lost in a great story!
Book Info:

Published June 3rd 2014 by Berkley | (Green Mountain Romance #2)
For the Abbott siblings, the Green Mountain state has always been an idyllic place to call home. But it isn't until they open themselves up to love that they'll truly discover how fulfilling life can be…
Almost seven years after losing her husband in Iraq, Hannah Abbott Guthrie isn't sure she's ready—or able—to move on, but the attentions of a lifelong friend are making her think about it for the first time. The memory of the sweet kiss she shared with Nolan Roberts hasn't strayed far from her thoughts, but she also fears that pursuing something with him would mean betraying her husband's memory.
Nolan has loved Hannah for years, but he'd been giving her the space she needed to heal from her devastating loss. Now, when an opportunity arises to show her how he feels, Nolan can't resist, but he knows earning her love will take more than a kiss. Somehow he has to prove to Hannah that finding love twice in a lifetime is possible—and well worth risking her heart.