This Kiss by Debbi Rawlins: How long does hero worship really last? When you grow older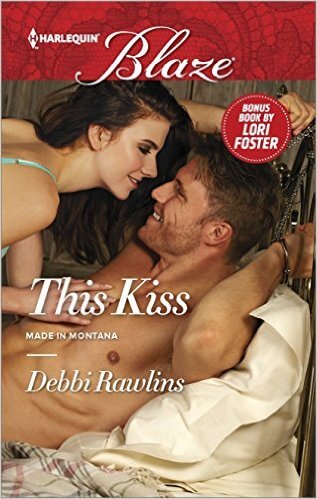 does that mean you can no longer wear those rose colored glasses?
Sophie Michaels had to figure that out. Her high school hero had jumped bail and it was up to her, geek turned bounty hunter, to go and bring him back. Could she do it? Would she be able to make herself focus on the task at hand and not on the love she had once had for him?
Ethan Styles was rodeo royalty, and came from it as well, so the last thing he needed was the media getting wind of this trumped up arrest. When his friend said he had it taken care of he believed him, so he kept with his plans and headed out to a charity rodeo without a clue he was jumping bail.
When Ethan invited Sophie back to his room he had no idea who she was or heaven forbid that she was a bounty hunter, but when the cuffs came out all bets were off. Would these two be able to fix the case of half-truths and get their lives on the straight and narrow or would they both go out as fugitives?
Ms. Rawlins has given us another amazing installment of the Made in Montana series that can stand on its own as well. She poured love, laughter and true story into this one. It will have you hot and bothered as well as laughing your rear off at points. It's one of the few these days that makes you want more, not so much for the characters because she does an amazing job giving you a complete story there, but because of her style. The writing is so well done that its almost like you were transported there. So grab and iced tea, your sunglasses and cowboy hat and prepare for a great time when you open up this one….
Book Info:

Publication: September 1st 2015 | Harlequin Blaze | Made in Montana #12
Hang on! It's gonna be a wild ride…
Champion bull rider Ethan Styles knows he should avoid injury before the National Finals. But riding in Blackfoot Falls's charity rodeo is worth the risk. Inviting a hot little buckle bunny to his room? Also worth it…until she handcuffs him to the bed and tells him she's a bounty hunter!
Sophie Michaels had a huge thing for Ethan in high school. The chance to see him again — even if it's to bring him in — is irresistible. Except it's not quite that easy. Until the charity rodeo is over, Sophie is glued to Ethan's side all day…and all night. She knows she should return her fugitive to justice, but once you have a cowboy in your bed, you never want to let him go.