Too Hot to Handle by Tessa Bailey is definitely named correctly since it's filled with heated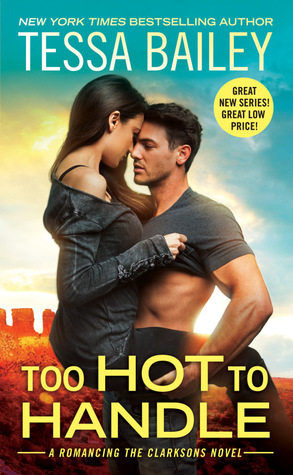 moments, sexy characters, and explosive scenes. The book starts off with a bang, so I would certainly recommend carving out some time to read this in one sitting, because once you start reading, you won't stop.
Miriam Clarkson, mother to Rita, Aaron, Belmont, and Peggy dies and leaves behind a journal with a last wish, so to speak. This wish is for all four of her children is to jump into the same ocean, at the same beach as she did when she was eighteen, and on New Year's Day.
The four siblings are not close to each other and are completely different from each other. When Rita burns down their mother's legacy of a restaurant, they try to be there for her, at least in their own way. This leads to Rita admitting she found their mother's journal and her intentions of fulfilling the wish. Eventually, the other three decide to take the journey with her to New York, well until the fan belt blew out in their suburban. Don't worry though, they are rescued by a silver tongue, bike riding honkey tonk owner.
Jasper Ellis is the joke of the town. He's kind of a tramp, but he's reformed some. Everyone in town thinks he's good enough to have a quickie with but once that's over, they're done with him. When he meets Rita, she doesn't know anything about his reputation and this gives Jasper a sense of starting over. He changed his ways and denies himself the pleasure of sex, but with Rita, his good intentions go straight down south. Their attraction to each other is fierce and sooner than later, there's no chance of denying what but they both need.
Rita has her own problems to deal with. She's just burned down the restaurant and is a laughing stock in the culinary world, thanks to a reality show and a knife. When Jasper sets his sights on Rita, she doesn't get it. To her, she's nothing special but to him, she's everything. Too bad she's leaving as soon as their car gets fixed…or will she?
I really enjoyed Jasper's character. His bar naming skills are less than desired but it gets the point across. He's worked so hard at changing his ways that you can tell at every interaction just how much he cares for Rita. Their relationship may be fast and furious but time ceases to matter when you find the one.
"When I saw you on the side of the road, Rita —his perspiration-soaked head fell into the crook of her neck, but he lifted it to say the next words in her ear —I saw my wife. I knew."
I thoroughly enjoyed this book and can't wait to read about the other three siblings and their stories. Even though the siblings were estranged in the beginning of the story, they banded together as a family when time called for it. I would absolutely recommend this five-star read to any romance lovers out there and if you're a fan of a dirty talking hero, this is right up your alley!
Book Info:

Publication: May 17, 2016 | Forever | Romancing the Clarksons #1
When Rita Clarkson's Suburban takes its last breath on a New Mexico roadside, rescue roars up on a Harley in the form of smooth-talking honkey tonk owner, Jasper Ellis, a man as mysterious as he is charming. Rita's cross-country journey to New York City–with her three estranged siblings in tow–is only beginning, but now that Jasper has found Rita, his plans do not include her leaving.