Trouble On Her Doorstep by Nina Harrington: Dee Flynn is determined to make her boutique tea business a success. She knows this is how tea *should* be sold, fresh and direct to the client, so it's of the best quality. Dee wants to make sure her clients see that, so she's holding a symposium to showcase the various varietals and accessories. Her venue, one of the Beresford properties, is perfect – and everything seems in order. She can't wait!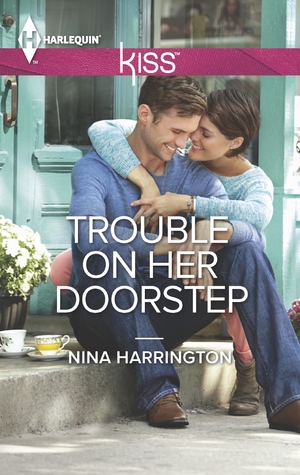 Sean Beresford can't believe the mess he's been sent to clean up this time. The London properties are in a bit of disarray and one of the event managers has left with the upcoming plans in quite the state. He never used the software the company set up, instead opting for pen and paper – which meant double and triple bookings. So Sean went straight from the plane to one of the clients on which they had to cancel and return a deposit.
But Dee's not going to let Sean and the Beresford's off that easily. Booking software aside, she still has a contract, and that means she can force her hand. She wants an alternate venue, and she wants Sean to get it for her. And the stark modern blank hotel isn't the way to go, no sir – she wants something befitting her business. So when Sean shows her The Beresford Riverside, she knows it's the perfect place for her tea festival. And Sean is starting to see that she's a breath of fresh air, and perhaps the perfect thing for him.
Dee is a force of nature, she charms everyone she comes in contact with, she even makes Sean's world a little bit lighter, brighter, more joyful. But he has obligations. He works for the Beresford family hotels. He's the fixer. Sean is sent in to fix problems. Which means he goes where he needs to go. London isn't going to need him much longer, so that means his time here is limited. Dee deserves more, so when he almost gives in to his urge to kiss her, he pulls back.
What Sean doesn't count on is that Dee has his number. She knows that Sean is shying away from any sort of commitment. She may not know why, but she knows the signs. When she gives him the green light and they take the first step, he still pulls away. Instead, he invites her to a management dinner where his family will be in attendance. Dee is befuddled. It seems like a leap over casual to her, but who is she to question. The night is full of surprises, and things start to get complicated.
Her festival planning is going well, and Sean couldn't be prouder. They're getting closer, but the night before her big day, an emergency phone call is taken, and everything changes in a heartbeat. Dee offers Sean the chance to see his life in a different way, but will he be able to understand what she's saying before it's too late?
I really enjoyed this book. Nina's stories are usually light and fluffy with a bit of bite underneath. Dee was both, while Sean was a lot of bite that softened into a bit of light. I'm wondering if Sean's brother and sister will get their own stories at some point, they were intriguing. But back to this book – Dee is vivid and colorful, I could truly feel her presence, and the way she sacrificed for him before the dinner with his family and management team was very touching. His reaction was perfect as well. That was the turning point in the romance, and it was just lovely and executed well. Another KISS win.
Book Info:

Publication: January 21st 2014 by Harlequin KISS
Knock-knock. Who's there?
When gorgeous hotel magnate Sean Beresford arrives on the doorstep of Dee Flynn's tea shop, it seems her luck's in. Right? Wrong! Sean's come to tell Dee he's canceling her latest business venture, leaving her future looking as washed-out as old tea leaves.
Dee's not about to go under without a fight, and reluctantly Sean agrees to help her find a solution. He might dress in suits that would make even 007 jealous, and those startling blue-gray eyes will certainly take some forgetting, but he sets Dee's blood boiling – and her pulse racing – like no one else! And that's before he kisses her…