In What I Love About You (Truly, Idaho #3) by Rachel Gibson, Natalie Cooper has come a long way since her days as a cheerleader and part of the most popular couple in Truly, Idaho. Now she's a single mom who runs her own photo shop in her hometown, while her ex-husband is in federal prison after he embezzled from their friends and family. Natalie may have gotten over the shock of what happened five years ago, but she will never forget what Michael did to her and their then unborn child, Charlotte. Natalie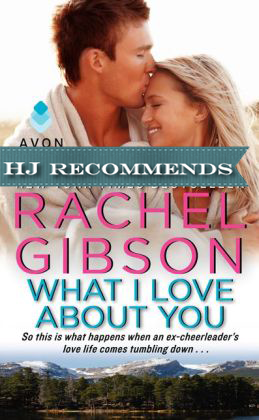 is leery of men and their penchant for lying now, so when badass Blake Junger moves in next door, she feels sparks of attraction but she knows he has trouble written all over him. He definitely doesn't prove her wrong through their first encounters until her daughter befriends Blake. Then Natalie sees a whole new side to him. She's not sure it's smart to get involved with a man who obviously doesn't want a relationship. But she can't seem to stop it from happening.
She stood completely still as he told her, "You look like a woman who needs to date and with a man who knows how." He lowered his gaze to her mouth. He wasn't touching her, but it felt like it. "You look like you need a man to date you all night long."
…"Are we talking about dating?" It felt like he was talking about something else.
Navy SEAL Blake Junger bought his new house in Truly to have some space of his own to deal with his demons and get away from his loving but interfering family. He didn't know he would have to deal with nosy five year old Charlotte next door or her sassy, beautiful mother, Natalie. Blake is at a crossroads in his life, wondering if he can continue fighting the good fight for his country or if it's time to do something else. What had never entered his head before was settling down with a woman. His identical brother Beau may have done so, but it's not for him. Natalie becomes both his temptation and his salvation. She keeps his demons at bay when he's in her company, but she also drives him to want a life he never dreamed of. And Blake isn't sure which is scarier: the devil he already knows, or the possibility of hurting Natalie and Charlotte if he can't be there for them long-term.
"I got skills, Sweet Cheeks. Skills the military didn't teach me. Skills I've learned all on my own." He lowered his face to hers and his lips brushed hers when he said, "You're going to love the skills in my own personal toolbox."
What I Love About You is a charming romance from Rachel Gibson that features a hunky military alpha hero, and a former-cheerleader-turned-single-mom who knows how to stand up on her own two feet. Although she wouldn't mind being swept off of them by said sexy neighbor…
I think what usually draws me in most while reading Ms. Gibson's books is the sexual tension she masterfully creates between her characters. It's obviously different each time, depending upon the personalities and situations, but it's always there and so much fun to witness. Here, Blake and Natalie got off on the wrong foot when their first conversation was an argument filled with a few choice bad words. It set the stage for their subsequent encounters to be laced with frustration and a bit of animosity. But soon their chemistry took over and neither Blake nor Natalie could ignore that sizzle of attraction between them. That was when things really got interesting. And complicated. Which I loved.
The other layer to this story was two-fold: Natalie's ex-husband Michael, and their daughter Charlotte. I thought Natalie's concern over her daughter getting too attached to Blake was very realistic given that Charlotte had already grown up not knowing her father. It was something I felt any single mother would take into consideration when deciding whether or not to date. I also have to give kudos to Blake when it came to Michael. Being such an alpha-type, Blake didn't lose his cool when faced with the ex possibly reappearing in Natalie and Charlotte's lives. And coupled with some of his own demons he was fighting, that took a lot of inner strength for Blake. I may have gotten a bit ticked at him during his final conflict with Natalie toward the end, but he totally redeemed himself, so all's well that ends well.
If you love a romance with strong lead characters who grow and change for the better throughout the story, I recommend reading this one. Very sexy and Truly very sweet.
Book Info:

Published August 26th 2014 by Avon | (Truly, Idaho #3)
New York Times bestselling author Rachel Gibson returns to Truly, Idaho, and to the fate of sexy SEAL Blake Junger
GIMMEE A B-R-E-A-K!
Ex-high school cheerleader Natalie Cooper could once shake her pom-poms with the best of them. But she's paid for all that popularity—her husband's run off with what's left of their money and a twenty-year-old bimbo named Tiffany. Leaving Natalie to manage a photo store and having to see some pictures she, well, really shouldn't.
GIMMEE A S-H-O-T!
Then she comes toe-to-manly chest with Blake Junger. Exiled to a remote cabin in Truly, Idaho, Blake wants nothing to do with anyone. Instead, he's determined to struggle with his demons and win—all on his own. But the last thing he needs is Natalie distracting him with her luscious curves and breaking down the barriers of his heart.
GIMMEE YOUR H-E-A-R-T!