The Longest Night by Kara Braden is a book full of tension, lust and emotional moments that sucked me in and held me until the end. The story centers around Ian, a lawyer recovering from a prescription painkiller addiction, and Cecily, former soldier and by all appearances, a recluse. When Ian is released from his latest treatment program, he's told by his bosses to stay out of Manhattan for at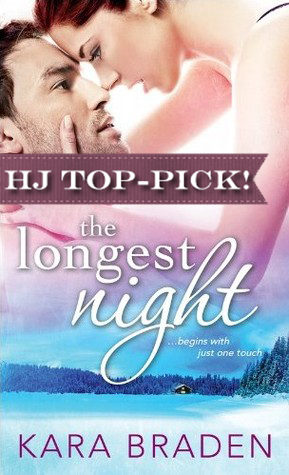 least several months. His brother knows of one place to send him, a remote cabin in the Canada wilderness, to stay with Cecily.
Cecily was a POW in the Middle East. Her body language exudes constant alert and tension. She keeps a weapon on her at all time, doesn't sleep well, suffers nightmares when she does, and doesn't like to feel evenly remotely confined. This is why Cecily lives a life of seclusion, she recoils from people and unknown situations, because she is terrified she will react badly and hurt someone. But the more time that they spend together, the more that they start to understand each other. It soon becomes not an issue of them falling in love but the true questions are what will they do about it? Will Cecily ever be able to follow Ian back to society? Will Ian give up his life to stay with Cecily in her remote world? How will they fit into each other's lives?
Ian is one of my favorite characters. His ability to read Cecily's body language. anticipate her thoughts and fears, knowing when to touch her, when to back away builds trust between these two very damaged characters. Understanding what Cecily went through and survived, only makes her more human in this story. I loved the interactions between these two characters and was so happy with the way that this story ended.
The Longest Night is a love story full of longing and passion, brilliantly crafted characters who's growth was fulfilling and thought-provoking. This book made me a happy reader and I have already formed a line for her next book, The Deepest Night. I give this story 5 shining stars.
Book Info:

Published July 1st 2014 by Sourcebooks Casablanca
This could work, whispered the little voice in the back of her mind, the voice that had been silent for seven years…
SHE SOUGHT SOLACE IN SOLITUDE
Years ago, former Marine Captain Cecily Knight fled her dark past and the nightmares forever haunting her nights. Alone in the remote Canadian wilderness, she survives day to day…until Ian Fairchild comes storming into her life and shatters her protective seclusion.
UNTIL ONE TOUCH BARED HER SOUL
Aloof but intriguing, defensive but undeniable, Ian is everything Cecily shouldn't want but can't ignore. He watches her with shrewd blue eyes, as if determined to decipher her secrets…and for the first time in years, she finds herself coming alive beneath the hands of a man with too many scars to count.
As the hushed and harsh winter closes in around them, two lost souls find themselves on the precipice of a love that could save their lives…or destroy them forever.