In What the Greek Can't Resist (The Untamable Greeks #2) by Maya Blake, CEO Arion Pantelides lets his legendary control slip for one night of undeniable passion with a perfect stranger. The magical night turns sour when he discovers the woman he made love to was widowed the same night. He is furious when he finds out the deception but he still can't stop wanting her.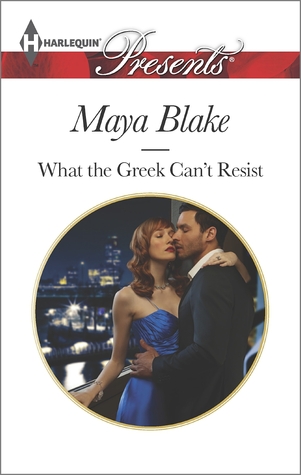 Perla Lowell's marriage was a painful sham, so now—penniless and alone—she refuses to let this dark-hearted Greek intimidate her. But when Arion offers Perla a chance to prove herself, she'll show him she has nothing to hide! Until she discovers she's pregnant with his child…
What the Greek can't resist is the second part of The Untamable Greek trilogy by Maya Blake and can be easily read as a standalone.
What the Greek can't resist is a well written romance which has the perfect combination of romance and passion. The romance starts out as a one night stand but slowly starts getting serious. I loved how the author depicted the amount of intense feeling the characters had for each other. I think that's the reason the one night stand at the beginning did not feel silly or immature to me.
The story progresses at a moderate pace and nothing seemed rushed or unbelievable to me. Arion was a sexy alpha hero who knew when to apologize for his mistake and that's what I loved about him. He had a tendency to be dominating at times but it was not suffocating. Perla is a strong and sexy redhead who finally starts living again when her husband dies. The main characters shared amazing chemistry and it was one of the main reason the story was a delight to read.
Overall, What the Greek can't resist is a well written romance which was delight to read.
Book Info:

Published May 20th 2014 by Harlequin Presents Series #3246 |  (The Untamable Greeks #2)
One night to change everything…
CEO Arion Pantelides is always in control—but for one night he gave in to oblivion with a stunning stranger. Yet his passion is quickly matched by fury when Arion—prizing honesty above all else—discovers the woman who came undone in his arms has only recently been widowed….
Perla Lowell's marriage was a painful sham, so now—penniless and alone—she refuses to let this dark-hearted Greek intimidate her. But when Arion offers Perla a chance to prove herself, she'll show him she has nothing to hide! Until she discovers she's pregnant with his child…