Welcome 2014!
I received  

"2013 Year in Blogging"

Annual report this morning and thought I'd share some fun HJ stats with you.

1666 Post? Thats not counting 3 from day 😉 Phew. We Junkies have sure been busy.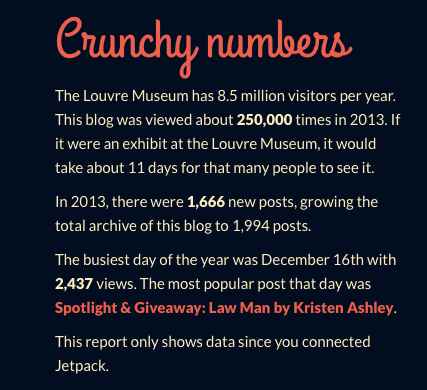 Thanks
Kai, DebraG, Bn100, Marcy & LeannaH

for being such great fans of the HJ site, such dedicated commenting deserves a reward. Please email me your mailing address.

(Disclaimer: Comment numbers were provided by WordPress, I did not tally comments per reader.)

HJ had visitors from
174

countries, wow I am truly impressed. I'm certain 

Mary P

, heads the Aussie delegation 🙂 Again Thank You!


There you have it, WordPress' round up for 2013!
HJ community has grown leaps and bounds in 2013, and here's hoping for an equally fantastic 2014.

3 US Box-O-Books Winners:  

Surprise box  full of HEA!  (Single Titles & Harlequins)
1 International winner: 

$10 Amz GC  
To Enter to Win:
1. You must be an email subscriber of HJ blog (If you aren't already, subscribe using floating "+Follow" button on right or use "Subscribe to Blog" widget in the footer section of this page ) 
2. Drop me a comment here: What are your thoughts about this Blog? Would you recommend HJ blog to fellow readers? Did anyone notice the new design? 🙂
Feel free to "Like" us on Facebook & Follow on Twitter
Shipping Details: Must have a US mailing address, PO Box. or a forwarding address in the US that I can mail to.
Please note: This contest will close on Wednesday Jan 8 2014 at 8:59 PM (PT) and the winners will be notified via email and on this Post. Winner will have 48 hours to respond to my e-mail before a new winner is selected.
Here's Wishing You and Yours a Happy, Healthy & Prosperous 2014
The Junkies: Sara, Michele, Sue, Karen, Yazmin, Ipshita, Lauren, Erica & Jen.
And the winners are
US:

International: Ada