Welcome to Harlequin Junkie's
6th
Annual

Reader Appreciation
#BOOKMAS
EXTRAVAGANZA!
From Naughty to Nice and Everything in between….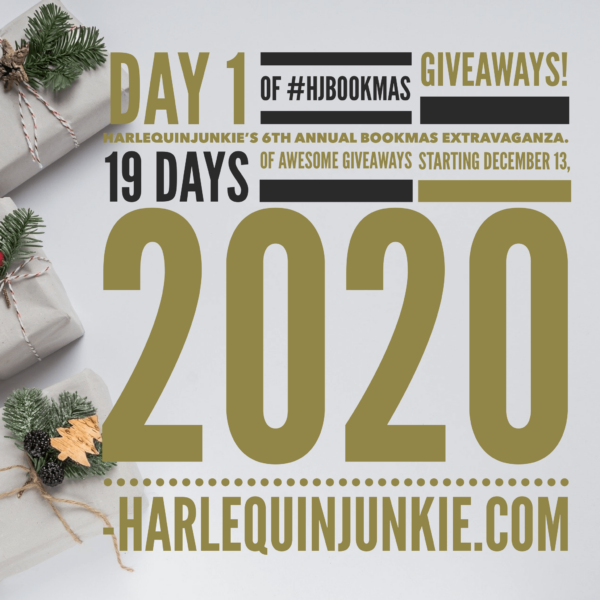 HJ's Bookmas Extravaganza is our annual celebration of YOU, our loyal and engaged readers of Harlequin Junkie blog and the romance community.
Thank You for all you do; for all the tweets, re-post, shares, comments. We <3 You!
On the 1st Day of #Bookmas…
Avon Books gave to me…. 

A chance to win 2 Book Bundles!!
In the spotlight today…
Avon has been publishing award-winning romance since 1941. It is recognized for having pioneered the historical romance category and continues to publish in wide variety of other genres, including paranormal, urban fantasy, contemporary and regency. Website | Instagram | Twitter

A sneak peak at Avon Publishing's Most Anticipated Releases of 2021:  

HANG THE MOON – Alexandria Bellefleur o/s 5/25/2021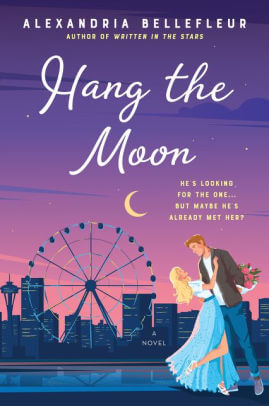 In a delightful follow-up to Written in the Stars, Alexandria Bellefleur delivers another #ownvoices queer rom-com about a hopeless romantic who vows to show his childhood crush that romance isn't dead by recreating iconic dates from his favorite films…
Brendon Lowell loves love. It's why he created a dating app to help people find their one true pairing and why he's convinced "the one" is out there, even if he hasn't met her yet. Or… has he? When his sister's best friend turns up in Seattle unexpectedly, Brendon jumps at the chance to hang out with her. He's crushed on Annie since they were kids, and the stars have finally aligned, putting them in the same city at the same time.
Annie booked a spur-of-the-moment trip to Seattle to spend time with friends before moving across the globe. She's not looking for love, especially with her best friend's brother. Annie remembers Brendon as a sweet, dorky kid. Except, the 6-foot-4 man who shows up at her door is a certified Hot Nerd and Annie… wants him? Oh yes.
Getting involved would be a terrible idea—her stay is temporary and he wants forever—but when Brendon learns Annie has given up on dating, he's determined to prove that romance is real. Taking cues from his favorite rom-coms, Brendon plans to woo her with elaborate dates straight out of Nora Ephron's playbook. The clock is ticking on Annie's time in Seattle, and Brendon's starting to realize romance isn't just flowers and chocolate. But maybe real love doesn't need to be as perfect as the movies… as long as you think your partner hung the moon.

FIRST COMES LIKE – Alisha Rai o/s 2/16/2021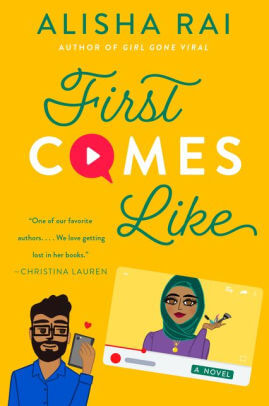 The author of The Right Swipe and Girl Gone Viral returns with a story about finding love in all the wrong inboxes…
Beauty expert and influencer Jia Ahmed has her eye on the prize: conquering the internet today, the entire makeup industry tomorrow, and finally, finally proving herself to her big opinionated family. She has little time for love, and even less time for the men in her private messages—until the day a certain international superstar slides into her DMs, and she falls hard and fast.
There's just one wrinkle: he has no idea who she is.
The son of a powerful Bollywood family, soap opera star Dev Dixit is used to drama, but a strange woman who accuses him of wooing her online, well, that's a new one. As much as he'd like to focus on his Hollywood fresh start, he can't get Jia out of his head. Especially once he starts to suspect who might have used his famous name to catfish her…
When paparazzi blast their private business into the public eye, Dev is happy to engage in some friendly fake dating to calm the gossips and to dazzle her family. But as the whole world swoons over their relationship, Jia can't help but wonder: Can an online romance-turned-offline-fauxmance ever become love in real life?

THE QUEER PRINCIPLES OF KIT WEBB – Cat Sebastian – 6/08/2021
Critically acclaimed author Cat Sebastian makes her trade paperback debut in a stunning historical romance about a reluctantly reformed highwayman and the aristocrat who threatens to steal his heart.
Kit Webb has left his stand-and-deliver days behind him. But dreary days at his coffee shop have begun to make him pine for the heady rush of thievery. When a handsome yet arrogant aristocrat storms into his shop, Kit quickly realizes he may be unable to deny whatever this highborn man desires.
In order to save himself and a beloved friend, Percy, Lord Holland must go against every gentlemanly behavior he holds dear to gain what he needs most: a book that once belonged to his mother, a book his father never lets out of his sight and could be Percy's savior. More comfortable in silk-filled ballrooms than coffee shops frequented by criminals, his attempts to hire the roughly hewn highwayman, formerly known as Gladhand Jack, proves equal parts frustrating and electrifying.
Kit refuses to participate in the robbery but agrees to teach Percy how to do the deed. Percy knows he has little choice but to submit and as the lessons in thievery begin, he discovers thievery isn't the only crime he's desperate to commit with Kit.
But when their careful plan goes dangerously wrong and shocking revelations threaten to tear them apart, can these stolen hearts overcome the impediments in their path?

JUST LAST NIGHT – Mhairi McFarlane – 5/04/21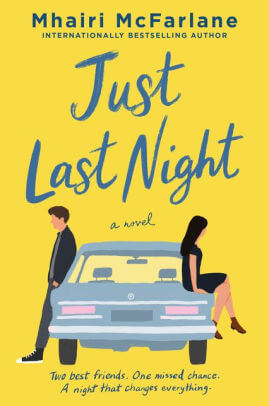 International bestseller Mhairi McFarlane explores lifelong friendships, long-buried secrets, and unexpected love in a heartfelt, emotional new novel, perfect for fans of Evvie Drake Starts Over, The Two Lives of Lydia Bird, or In Five Years.
Eve, Justin, Susie, and Ed have been friends since they were teenagers. Now in their thirties, the four are as close as ever, Thursday night bar trivia is sacred, and Eve is still secretly in love with Ed. Maybe she should have moved on by now, but she can't stop thinking about what could have been. And she knows Ed still thinks about it, too.
But then, in an instant, their lives are changed forever.
In the aftermath, Eve's world is upended. As stunning secrets are revealed, she begins to wonder if she really knew her friends as well as she thought. And when someone from the past comes back into her life, Eve's future veers in a surprising new direction…
They say every love story starts with a single moment. What if it was just last night?

IT HAPPENED ONE SUMMER – Tessa Bailey  7/13/2021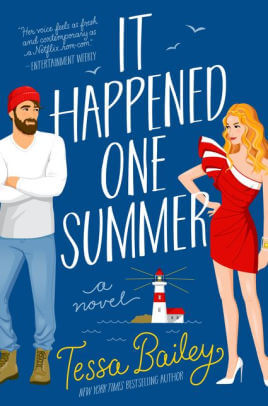 Tessa Bailey is back with a Schitt's Creek-inspired rom-com about a Hollywood "It Girl" who's cut off from her wealthy family and exiled to a small Pacific Northwest beach town… where she butts heads with a surly, sexy local who thinks she doesn't belong.
Piper Bellinger is fashionable, influential, and her reputation as a wild child means the paparazzi are constantly on her heels. When too much champagne and an out-of-control rooftop party lands Piper in the slammer, her stepfather decides enough is enough. So he cuts her off, and sends Piper and her sister to learn some responsibility running their late father's dive bar… in Washington.
Piper hasn't even been in Westport for five minutes when she meets big, bearded sea captain Brendan, who thinks she won't last a week outside of Beverly Hills. So what if Piper can't do math, and the idea of sleeping in a shabby apartment with bunk beds gives her hives. How bad could it really be? She's determined to show her stepfather—and the hot, grumpy local—that she's more than a pretty face.
Except it's a small town and everywhere she turns, she bumps into Brendan. The fun-loving socialite and the gruff fisherman are polar opposites, but there's an undeniable attraction simmering between them. Piper doesn't want any distractions, especially feelings for a man who sails off into the sunset for weeks at a time. Yet as she reconnects with her past and begins to feel at home in Westport, Piper starts to wonder if the cold, glamorous life she knew is what she truly wants. LA is calling her name, but Brendan—and this town full of memories—may have already caught her heart.


Giveaway #1:

Lori Wilde Giveaway Set:
1 paperback copy THE CHRISTMAS DARE
1 paperback copy THE CHRISTMAS BACKUP PLAN
1 paperback copy of THE CHRISTMAS KEY
*Ships to US mailing address.
Giveaway #2: Holiday Rom Com Giveaway Set:
1 paperback copy of A PRINCESS FOR CHRISTMAS – Jenny Holliday
1 paperback copy of WRITTEN IN THE STARS – Alexandria Bellefleur
1 paperback copy of THE FLIP SIDE – James Bailey
*Ships to US mailing address.

To enter Giveaway: Please complete the Rafflecopter form and  

Leave a comment with your thoughts on the books spotlighted here, tell us which one(s) grabbed your attention & why?
BONUS GIVEAWAY: 

Manuscript Critique

 (Maximum 50k words; worth $500 USD)
Is your dream to write a romance of your own? Do you want to take your writing to the next level in 2021?
Award-winning Harlequin author and writing coach Jennifer Hayward, whose books have been published in 31 countries and 25 languages, is offering a manuscript critique so you can put your best foot forward in your next submission. (Maximum 50k words; worth $500 USD.
jenniferhaywardcoaching.com
To Enter: 
Leave a comment below (Reference Manuscript Critique)  
Entrants must have a partial or full manuscript ready to submit by 01/31/2021.
Enter Daily to increase your chance of winning.
One winner will be chosen by author Jennifer Hayward from entries submitted 
between Dec 13 to Dec 31 2020.


Be sure to stop by everyday from Dec 13 to Dec 31 2020 for a chance to win: Box-O-books, Gift Cards, Audio books, Signed book bundles, A Manuscript Critique, Author Swag & more!