3rd

Annual Harlequin Junkie

Reader Appreciation EXTRAVAGANZA
#Giveaway:

Day 15
Are you on HJ's Naughty list?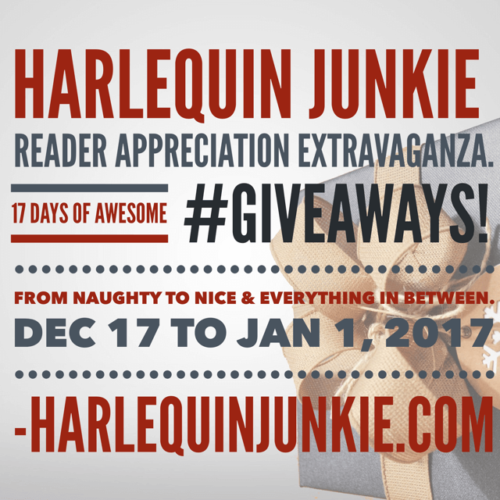 From Naughty to Nice and Everything in between….
Be sure to stop by everyday from Dec 17 to Jan 1 2017 for a chance to win: Box-O-books, Gift Cards, Kindle, Audio books, Author Swag, Gift baskets & more!

The holiday season is the perfect time for Celebrating and Giving.
Considering HJ's Reader community is the BEST! We've decided to do both. 🙂
Starting December 17, we are celebrating YOUR continued support of the romance community & Harlequin Junkie blog with 
16 days of Awesome #Giveaways!
Thank You, for being a part of HJ's community.
Thank You, for all YOUR comments and interactions.
Thank You, for YOUR loyalty to the blog.
Most of all THANK YOU for making HJ a FUN place to hangout!
We <3 You! 🙂
Up for grabs today, AUDIO BOOKS galore!

#1 GIVEAWAY:

one audiobook CD each of the following Rock Kiss titles: Rock Addiction, Rock Courtship, Rock Hard, Rock Redemption by Nalini Singh. – Worldwide.
New York Times and USA Today bestselling author of the Psy-Changeling and Guild Hunter series Nalini Singh usually writes about hot shapeshifters and dangerous angels. This time around, she decided to write about a hot and wickedly tempting rock star. If you're seeing a theme here, you're not wrong.
Nalini lives and works in beautiful New Zealand, and is passionate about writing. If you'd like to explore her other books, you can find lots of excerpts on her website: www.nalinisingh.com, Facebook: www.facebook.com/authornalinisingh  Twitter: @nalinisingh

#2 GIVEAWAY:

Audiobook of Lullaby Sky + The Wedding Pearls by Carolyn Brown. – US
Carolyn Brown is a New York Times, USA Today and Wall Street Journal bestselling author and a RITA finalist. She's won the National Reader's Choice Award three times, the Bookseller's Best Award and was award the diamond award from Montlake for selling over a million books. Her books include romantic women's fiction, historical, contemporary, cowboys and country music mass market paperbacks. She and her husband live in Davis, Oklahoma that only has one traffic light. They have three grown children and enough grandchildren to keep them young. When she's not writing she likes to sit in her gorgeous back yard with her two tom cats, Chester Fat Boy and Boots Randolph Terminator Outlaw and watch them protect the yard from all kinds of wicked varmints like crickets, locusts and spiders.
Website | Facebook |

#3 GIVEAWAY:

Audio CD of the SIN series: Dirtiest Secret, Hottest Mess, & Sweetest Taboo by J. Kenner – US
A New York Times, USA Today, Publishers Weekly, and Wall Street Journal bestselling author, J. Kenner (aka Julie Kenner) writes the international bestselling Stark and Most Wanted series of erotic romances.
As Julie Kenner, she writes within a range of genres including romance (erotic, sexy, funny & sweet), young adult novels, chick lit suspense, and paranormal mommy lit.
Learn more about all of JK's books at her website and her social media pages: www.juliekenner.com, Twitter (@juliekenner) and her Facebook pages at www.facebook.com/juliekennerbooks and​ ​www.facebook.com/jkennerbooks.
For all the news on upcoming releases, contests, and other fun stuff, be sure to sign up for her newsletter.
Website | Facebook | Twitter |

#4 GIVEAWAY:

Audio book of Doing It Over and Not Quite Perfect by Catherine Bybee- US
New York Times, Wall Street Journal, and USA Today bestselling author Catherine Bybee has written twenty-four books that have collectively sold more than three million copies and have been translated into twelve languages. Raised in Washington State, Bybee moved to Southern California in hopes of becoming a movie star. After growing bored with waiting tables, she returned to school and became a registered nurse, spending most of her career in urban emergency rooms. She now writes full-time and has penned the Not Quite series, the Weekday Brides series, and, most recently, the Most Likely To series.
Website | Facebook | Twitter |

#5 GIVEAWAY: 

Audio books of EVERYTHING I LEFT UNSAID and THE TRUTH ABOUT HIM by Molly O'Keefe (M. O'Keefe) – US
Molly O'Keefe has always known she wanted to be a writer (except when she wanted to be a florist or a chef and the brief period of time when she considered being a cowgirl). And once she got her hands on some romances, she knew exactly what she wanted to write.
She published her first Harlequin romance at age 25 and hasn't looked back. She loves exploring every character's road towards happily ever after. www.molly-okeefe.com

#6 GIVEAWAY: 

Audio books of Rocky Mountain Romance, Rocky Mountain Shelter by Vivian Arend. – US
Vivian Arend in one word: Adventurous. In a sentence: Willing to try just about anything once. That wide-eyed attitude has taken her around North America, through parts of Europe, and into Central and South America, often with no running water.
Her optimistic outlook also meant that when challenged to write a book, she gave it a shot, and discovered creating worlds to play in was nearly as addictive as traveling the real one. Now a New York Times and USA Today bestselling author of both contemporary and paranormal stories, Vivian continues to explore, write and otherwise keep herself well entertained.
Connect: Website | Twitter | Facebook | Pinterest | Newsletter

#7 GIVEAWAY: 

Audio book of ROMAN CRAZY by Nina Bocci and Alice Clayton. – US
Nina Bocci is a novelist, publicist, eternal optimist, unabashed lipgloss enthusiast, constant apologist, and a hopeless romanticist. She has too many college degrees that she's not using and a Lego addiction that she blames on her son.

#8 GIVEAWAY: 

Audio book of PARIS FOR ONE AND OTHER STORIES Jojo Moyes, read by Fiona Hardingham and Various + Modern Romance by Aziz Ansari and Eric Klinenberg, read by Aziz Ansari. – US
Penguin Random House Audio is the market leader for adult and children's audiobook publishing.
W: penguinrandomhouseaudio.com  T: @PRHAudio

#9 GIVEAWAY: 

Audio book of The Angel's Share by J.R. Ward, read by Alexander Cendese + Dark Carousel by Christine Feehan, read by Jim Frangione. – US
Penguin Random House Audio.

#10 GIVEAWAY: 

Audio book of Twelve Days of Christmas by Debbie Macomber, read by Suzanne Elise Freeman + Our Chemical Hearts by Krystal Sutherland, read by Robbie Daymond ". – US
Penguin Random House Audio and Listening Library
To enter Giveaway: Please complete the Rafflecopter form and
Have you read any of the authors noted above? Do you have a favorite read?
*Giveaways noted (US) can only be shipped to a US mailing address.