Welcome to Harlequin Junkie's
4th
Annual

Reader Appreciation
#BOOKMAS
EXTRAVAGANZA!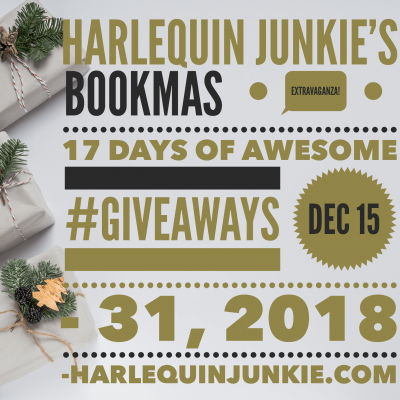 HJ's Bookmas Extravaganza is our annual celebration of YOU, our loyal and engaged readers of Harlequin Junkie blog and the romance community.
We would like to say Thank You for all you do; for all the tweets, shares, comments and for the fabulous job you do of spreading the word on all things bookish!! We <3 You!

From Naughty to Nice and Everything in between….

Be sure to stop by everyday from Dec 16 to Dec 31 2018 for a chance to win: Box-O-books, Gift Cards, Kindle, Audio books, Signed book bundles, Author Swag & more!

****
On the 2nd Day of #Bookmas…
Up for grabs today:
Book Bundle & Swag from Avon Publishing & Atria Books.
Avon publishes the best & brightest stars of contemporary, historical, and paranormal romance; in print and eBooks, straight into readers' hands, every month. Website | Twitter | Facebook

Atria, defined as "a central living space open to the air and sky," perfectly describes the vision of its publisher, Judith Curr, and her team. In her words, "When we launched Atria Books in 2002, we hoped to create an environment where new ideas could flourish, the best writers of fiction and nonfiction could thrive and connect with an ever-widening readership, and the best practices of traditional publishing could be integrated with cutting-edge developments in the digital world. In short, a place where great books could come to light."
The Atria Publishing Group publishes books for readers of all tastes and interests under these imprints: Atria Books, Atria Trade Paperbacks, Atria Books Español, Atria Unbound, Washington Square Press, Emily Bestler Books, Atria/Beyond Words, Cash Money Content, Howard Books, Marble Arch Press, Strebor Books, 37 Ink, Keywords Press, and Enliven Books. Website | Twitter | Facebook
A spotlight on a few upcoming 2018 
Avon titles:

Christmas Camp Wedding by Karen Schaler (January 8, 2019)
After finally becoming partner at her advertising agency, Haley Hanson barely has time to plan her Christmas Eve wedding with her fiancé Jeff. When their perfect location falls through at the last minute, they need to find a new venue, fast. But everything is booked for the holidays, except for the place where Haley and Jeff fell in love, Christmas Camp.
With time running out to transform the inn into a winter wonderland, Trisha, a top wedding planner is brought in to help; she also just happens to be Jeff's ex-girlfriend.
Will Jeff and Trisha's Christmas past get in the way of Haley's Christmas future, or can Christmas Camp still work its magic for a holiday happily ever after?

Ten Kisses to Scandal by Vivienne Lorret (December 24, 2018)
The Bourne Matrimonial Agency has one rule: Never fall in love with the client. However, they never said anything about kissing a rake…
Briar Bourne's matchmaking career could be summed up in two words—comic disaster. Unless she can learn about the irresistible forces that draw men and women together, her professional future looks rather bleak. But Briar has an intriguing plan—enlisting London's most irredeemable rake to teach her everything he knows about attraction. Given his notorious reputation, it's no surprise that Nicholas Blacklowe, the Earl of Edgemont, requests one thing in exchange for his tutelage. For every lesson, he wants a kiss in return. And what harm could there be in a simple kiss? After all, Briar would never fall for a scoundrel…
Nicholas has no romantic notions about love, and no intention of changing his ways. He's only helping Briar so that she can find the perfect bride for his jilted cousin. Yet Briar is so clever, so curious, so candid—so blasted tempting—that soon, Nicholas can't stop wondering what it might be like if he was irresistible to her.
Ten lessons. Ten kisses. And a million ways to fall hopelessly, scandalously in love.

Dare to Love a Duke by Eva Leigh (December 24, 2018)
For a dashing duke and the proprietress of a secret, sensual club in the London Underground, passion could lead to love… if they dare
Thomas Powell, the new Duke of Northfield, knows he should be proper and principled, like his father. No more dueling, or carousing, or frequenting masked parties where Londoners indulge their wildest desires. But he's not ready to give up his freedom just yet. The club is an escape, a place where he can forget about society and the weight of his title… and see her, the woman he's wanted forever.
Lucia—known as Amina—manages the Orchid Club, a secret society where fantasies become reality. But for Lucia, it's strictly business, profitable enough to finance her dream: a home for the lost girls of the streets. Surrounded by lovers, she only observes, unwilling risk her future for any man. No member has ever intrigued her…until him, the masked stranger whose heated looks sear her skin. After months of suppressed longing, they dare to give in to temptation…
But the late duke's legacy comes with a shocking secret, and the scandal threatens to destroy everything Tom loves… his family, the Orchid Club, and even Lucia.

Dirty Little Secret by Jennifer Ryan (December 18, 2018)
Meet the women from Wild Rose Ranch—and the men who want them—in New York Times Bestselling Author Jennifer Ryan's breathtaking series of romance and scandal . . .
Noah Cordero is a modern-day cowboy who loves three things: ranching, his younger sister, and his step-father. John Cordero groomed Noah to take over the Montana spread where he learned to ride and work the land. But when John unexpectedly dies, he leaves half the ranch to a woman Noah doesn't even know.
Roxy shares Noah's last name, but not his blood. Estranged from her father, haunted by regrets, and eager to escape her notorious mother's past, she is forced to fulfill her father's last wishes. Inheriting means sharing a home with infuriating, challenging, and oh-so-tempting Noah. But John didn't just make her owner of his ranch and guardian to her sister, his hidden sideline is her worst nightmare—she's the new owner of the notorious Nevada brothel called Wild Rose Ranch where she grew up.
As their strictly business relationship starts to turn to true love, Roxy begins to wonder, what will happen when Noah discovers her dirty little secret?

A spotlight on a few upcoming 2019 
Atria titles:

THINGS MY SON NEEDS TO KNOW ABOUT THE WORLD by Fredrik Backman (On-sale May 7, 2019)
The #1 New York Times bestselling author of A Man Called Ove shares an irresistible and moving collection of heartfelt, humorous essays about fatherhood, providing his newborn son with the perspective and tools he'll need to make his way in the world.
Things My Son Needs to Know About the World collects the personal dispatches from the front lines of one of the most daunting experiences any man can experience: fatherhood.
As he conveys his profound awe at experiencing all the "firsts" that fill him with wonder and catch him completely unprepared, Fredrik Backman doesn't shy away from revealing his own false steps and fatherly flaws, tackling issues both great and small, from masculinity and mid-life crises to practical jokes and poop.
In between the sleep-deprived lows and wonderful highs, Backman takes a step back to share the true story of falling in love with a woman who is his complete opposite, and learning to live a life that revolves around the people you care about unconditionally. Alternating between humorous side notes and longer essays offering his son advice as he grows up and ventures out into the world, Backman relays the big and small lessons in life, including:
-How to find the team you belong to
-Why airports explain everything about religion and war
-The reason starting a band is crucial to cultivating and keeping friendships
-How to beat Monkey Island 3
-Why, sometimes, a dad might hold onto his son's hand just a little too tight

SAY YOU STILL LOVE ME by KA Tucker (On-sale June 4, 2019)
The bestselling author of The Simple Wild and Keep Her Safe and "master of steamy romance" (Kirkus Reviews) delivers a sizzling novel about an ambitious and high-powered executive who reconnects with her first love: the boy who broke her heart.
Life is a mixed bag for Piper Calloway.
On the one hand, she's a twenty-nine-year-old VP at her dad's multibillion-dollar real estate development firm, and living the high single life with her two best friends in a swanky downtown penthouse. On the other hand, she's considered a pair of sexy legs in a male-dominated world and constantly has to prove her worth. Plus, she's stuck seeing her narcissistic ex-fiancé—a fellow VP—on the other side of her glass office wall every day…

MRS. EVERYTHING by Jennifer Weiner (On-sale June 25, 2019)
From Jennifer Weiner, the #1 New York Times bestselling author of Who Do You Love and In Her Shoes comes a smart, thoughtful, and timely exploration of two sisters' lives from the 1950s to the present as they struggle to find their places—and be true to themselves—in a rapidly evolving world. Mrs. Everything is an ambitious, richly textured journey through history—and herstory—as these two sisters navigate a changing America over the course of their lives.


  #1 GIVEAWAY:

US – Tote + 5 Surprise holiday backlist Avon titles! 
  #2 GIVEAWAY: 

US (3) – Book Bundle from Atria books: Each bundle will include a print copy of ALL YOUR PERFECTS by Colleen Hoover + ARC WATCHING YOU by Lisa Jewell
To enter Giveaway: Please complete the Rafflecopter form and  

Leave a comment with your thoughts on the books spotlighted here, Tell us which one(s) grabbed your attention & why?