Welcome to Harlequin Junkie's
6th
Annual

Reader Appreciation
#BOOKMAS
EXTRAVAGANZA!
From Naughty to Nice and Everything in between….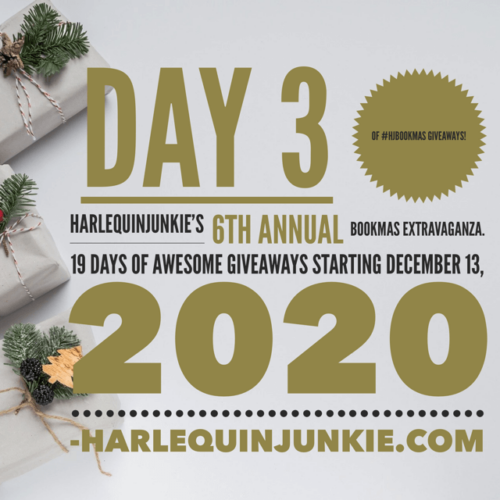 HJ's Bookmas Extravaganza is our annual celebration of YOU, our loyal and engaged readers of Harlequin Junkie blog and the romance community.
Thank You for all you do; for all the tweets, re-post, shares, comments. We <3 You!
On the 3rd Day of #Bookmas…
Enter to win Signed Books, Amazon Giftcard, Audiobooks & Swag from authors:

 Lisa Kleypas, 
Lori Foster, Jennifer Bernard, Lynsay Sands, Michelle Major, Debbie Macomber, A.M. Williams, Barbara Wallace, Erin Nicholas, Samantha Young, Susan Sands, Traci Douglass, Erika Kelly  & 
Anna J Stewart
I want to start out by saying a huge THANK YOU to all the authors noted above, their publicist and assistants for their continued participation and very generous contribution towards HJ's Bookmas event.
Thank You! Thank You! Thank You!

Dear Reader's, I hope you will make time to visit these wonderful authors, read about their new and upcoming releases on their website and give them a follow on Social Media 🙂

Giveaway #1: From author LORI FOSTER – A signed copy of The Somerset Girls, Don't Tempt Me and Fighting Dirty, a RAGT20 Tote bag & swag. (US)

Giveaway #2: From Author LISA KLEYPAS – 6 Ravenel books including a signed hardcover copy of Chasing Cassandra. (US)

Giveaway #3: From author JENNIFER BERNARD: A signed paperback copy of my upcoming release Head over Heels for the Holidays (US only) and a $10 gift card.

Giveaway #4: From Author LYNSAY SANDS: (3) Signed hardcovers of Immortal Angel and The Bite Before Christmas (US/CAN)

Giveaway #5: From author MICHELLE MAJOR: A Holiday book prize package. A print or digital copy of both The Merriest Magnolia and His Last Chance Christmas Family plus a cute Christmas ornament, holiday socks, a winter candle plus other goodies.

Giveaway #6: Holiday Book Bundles (US)
From Author DEBBIE MACOMBER: A signed book of JINGLE ALL THE WAY.
From author A.M. Williams – A signed paperback copy of It's Always Been You (US)
From author BARBARA WALLACE: A Royal House of Corinthia Christmas duet: Christmas Baby for the Princess and Winter Wedding for the Prince.

Giveaway #7: Audio book Bundle (International)
From author ERIN NICHOLAS an audio book from the Hot Cakes series available as of the giveaway date! Winners choice of book! (promo codes for the US or UK for books)
From Author SAMANTHA YOUNG: An audiobook of OUTMATCHED

Giveaway #8: Holiday Book Bundle (US)
From author SUSAN SANDS: I will give away a signed copy (US) of both my holiday titles, Christmas, Alabama and Noel, Alabama.
From Author TRACI DOUGLASS: A signed copy of my latest Harlequin Medicals title, Neurosurgeon's Christmas to Remember, along with bookmarks and stickers. US only.
From author ANNA J STEWART: eBook copy of HIS CHRISTMAS CAROUSEL BABY (Sweet romance)

Giveaway #9: eBook Bundle (Open Internationally)
From Author ERIKA KELLY: A digital box set of The Calamity Falls Small Town Romance series (the first 3 books).
From author ANNA J STEWART: eBook copy of HIS CHRISTMAS CAROUSEL BABY (Sweet romance)
To enter Giveaway:
Please complete the Rafflecopter form and

Leave a comment and let us know if what are some if your favorite books by authors with giveaways here today? Who are new to you authors here?
BONUS GIVEAWAY: 

Manuscript Critique

 (Maximum 50k words; worth $500 USD)
Is your dream to write a romance of your own? Do you want to take your writing to the next level in 2021?
Award-winning Harlequin author and writing coach Jennifer Hayward, whose books have been published in 31 countries and 25 languages, is offering a manuscript critique so you can put your best foot forward in your next submission. (Maximum 50k words; worth $500 USD.
jenniferhaywardcoaching.com
To Enter: 
Leave a comment below (Reference Manuscript Critique)  
Entrants must have a partial or full manuscript ready to submit by 01/31/2021.
Enter Daily to increase your chance of winning.
One winner will be chosen by author Jennifer Hayward from entries submitted 
between Dec 13 to Dec 31 2020.


Be sure to stop by everyday from Dec 13 to Dec 31 2020 for a chance to win: Box-O-books, Gift Cards, Audio books, Signed book bundles, A Manuscript Critique, Author Swag & more!