Welcome to Harlequin Junkie's
4th
Annual

Reader Appreciation
#BOOKMAS
EXTRAVAGANZA!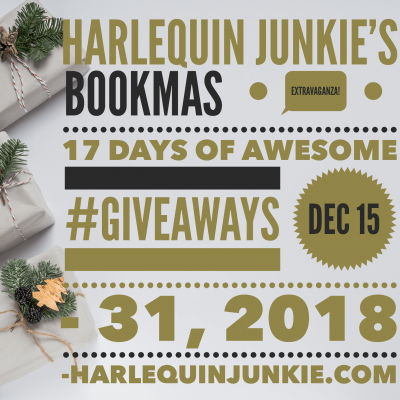 HJ's Bookmas Extravaganza is our annual celebration of YOU, our loyal and engaged readers of Harlequin Junkie blog and the romance community.

We would like to say Thank You for all you do; for all the tweets, shares, comments and for the fabulous job you do of spreading the word on all things bookish!! We <3 You!

From Naughty to Nice and Everything in between….
Be sure to stop by everyday from Dec 15 to Dec 31 2018 for a chance to win: Box-O-books, Gift Cards, Kindle, Audio books, Signed book bundles, Author Swag & more!

****
On the 3rd Day of #Bookmas…
Up for grabs today:
Book Bundles & Swag from Forever Romance and St. Martin's Press Romance.
SMP Romance: Founded in 1952 by Macmillan in London, St. Martin's Press was for many years primarily a distributor of Macmillan books. However, particularly during the last 30 years, St. Martin's grew rapidly as a publisher in its own right, finally becoming one of the seven largest publishers in America. From their home in the Flatiron Building in New York, St. Martin's publishes books under four imprints: St. Martin's Press, Griffin, Minotaur, and Thomas Dunne Books. Website | Twitter

Forever, the romance imprint of Grand Central Publishing, publishes a wide array of romantic fiction, featuring everything from Regency rogues to sexy billionaires, Scottish Highlanders to Texas cowboys, Navy SEALs to immortal shapeshifters to the gorgeous guy next door. Authors include #1 NYT bestseller Jodi Ellen Malpas, #1 NYT bestseller J.A. Redmerski, Jill Shalvis, Jessica Sorensen, Rachel van Dyken, Kristen Ashley, Jennifer Haymore, Kristen Callihan and Hope Ramsay. Since its founding in 2003, Forever has launched the careers of Elizabeth Hoyt, Larissa Ione and Paula Quinn, all of whom have become New York Times bestselling authors.
Forever Yours is the digital-first sister of the Forever romance imprint, which publishes ebook-only editions of a wide array of original works and classic favorites, ranging in length from novellas to epic sagas. Website | Twitter
A spotlight on a few upcoming 2019
SMP Romance titles:

It's Getting Scot in Here by Suzanne Enoch, 2/26/19
The first in a wickedly seductive new Scottish historical romance series from New York Times bestselling author Suzanne Enoch!
London socialite Amelia-Rose Baxter is nobody's fool. Her parents may want her to catch a title, but she will never change who she is for the promise of marriage. Her husband will be a man who can appreciate her sharp mind as well as her body. A sophisticated man who loves life in London. A man who considers her his equal—and won't try to tame her wild heart…
Rough, rugged Highlander Niall MacTaggert and his brothers know the rules: the eldest must marry or lose the ancestral estate, period. But Niall's eldest brother just isn't interested in the lady his mother selected. Is it because Amelia-Rose is just too. . . Free-spirited? Yes. Brazen? Aye. Surely Niall can find a way to soften up the whip-smart lass and make her the perfect match for his brother for the sake of the family.
Instead it's Niall who tempts Amelia-Rose, despite her reservations about barbarian Highlanders. Niall finds the lass nigh irresistible as well, but he won't make the mistake his father did in marrying an Englishwoman who doesn't like the Highlands. Does he have what it takes to win her heart? There is only one way to find out…

Getting Hot with the Scot by Melonie Johnson, 4/30/19
Cassie Crow, a pop-culture reporter for a TV talk show, is focused on becoming a "serious" journalist. But when she stumbles into a kilted Highlander with a killer accent, Cassie decides that taking one night off from work and spending it with a sexy Scot couldn't hurt. . .
Logan Reid has built a career on his charm, hosting a series of off-the-wall hijinks on the Web. But when the Scottish prankster meets the all-American, equal parts intelligent and irresistible Cassie, Logan realizes that one night of fun won't be enough. Could it be that this career-focused, commitment-phobic couple is finally ready to take a chance at true and lasting love?

Jackson by Emily March, 6/25/19
A brand new family-linked trilogy set within the Eternity Springs world! This new direction sweeps from the celestial magic of the small Colorado mountain town to a rugged canyon deep in the heart of Texas.

A Highlander Walks into a Bar by Laura Trentham, 7/30/19
A brand new series from Laura Trentham, full of love, laughs…and highlanders!
The annual Highland Games festival, the highlight of the Highland, Georgia tourist and social calendar, is only three weeks away, and just like every year, Isabel Buchanan will be hosting the festival with her mother on the family estate, Stonehaven. But this year, her mother keeps getting distracted from the planning – ever since she returned from a two-week trip to Scotland with a six-foot tall, very handsome souvenir, she doesn't have time for much more than being smitten.
Alasdair Blackmoor has been tasked with rounding up his wayward uncle Gareth and returning him to his duties as 9th earl of Cairndow and their family estate in Scotland. In Highland, Georgia, Alasdair feels like he's stepped into another world. The slow pace and friendly inhabitants highlight the hectic coldness of his life in London. But it's the fiery, funny Isabel who fascinates him. When he locates his uncle, Gareth confides to him that he wants to shed his aristocratic responsibilities and enjoy a simple life with his new American love, Alasdair sees the appeal in starting over.
As the festival approaches, he carves himself a place in Highland, but it's the woman at the center of it that feels like home. But when Alasdair and his uncle's lies about their true identities are revealed, they'll have to use all of their Scottish charm to win back the Southern women who have ensnared their hearts.

Handle with Care by Helena Hunting, 8/27/19
The next book set in Helena Hunting's hilarious and sexy world of Shacking Up!

The Orchid Throne by Jeffe Kennedy, 9/24/19
The first book in a new fantasy romance trilogy about a queen and a dethroned prince who go into a marriage of convenience to bring down an evil empire.

A spotlight on a few upcoming 2019
Forever Romance titles:
GENTLEMAN'S SINNER by Jodi Ellen Malpas: Fall in love with a mysterious and tortured hero in this steamy, suspenseful romance about Theo Kane, a British alpha, and Izzy White, the one woman who may be able to save him-as long as he can protect her from his dark past. (On sale: February 5, 2019)

MEET CUTE by Helena Hunting: Once upon a time, a Hollywood heartthrob and his ultimate fangirl literally collide in law school. Years later, Dax and Kailyn reunite in this sweet and
sexy story about family, new beginnings, and what can happen over a milkshake. (On sale: April 9, 2019)

JUSTIFIED by Jay Crownover: Welcome to Loveless Texas, where a rugged Texas sheriff must protect the woman who was once his sworn enemy… (On sale: June 25, 2019)

BAREFOOT BEACH by Debbie Mason: A former navy pilot and a firefighter unexpectedly fall for one another in this Harmony Harbor summer romance. (On sale: June 4, 2019)

THE FRIEND ZONE by Abby Jimenez: In this romantic comedy from debut writer (and Food Network champion) Abby Jimenez, Kristen and Josh meet at the worst possible time. She's preparing for a medically necessary procedure that it will make it impossible for her to have children and the sexy firefighter who has just popped in her life checks all the boxes except one: he wants to have a huge family. But as their attraction grows, it gets harder and harder to keep him at a distance. (On sale: July 9, 2019).


#1 GIVEAWAY:

US – Forever Romance Atote filled with 5 paperback Christmas releases for 2018
#2 GIVEAWAY: US- SMP Romance – Christmas Bundle. Giveaway will include 1 copy of each item noted below:

Dear Santa by Nancy Naigle
Kiss Me at Christmas by Valerie Bowman
A True Cowboy Christmas by Caitlin Crews
The Good, the Bad, and the Duke by Janna MacGregor
The Christmas Wishing Tree by Emily March
To enter Giveaway: Please complete the Rafflecopter form and

Leave a comment with your thoughts on the books spotlighted here, Tell us which one(s) grabbed your attention & why?