Harlequin Blaze wants you!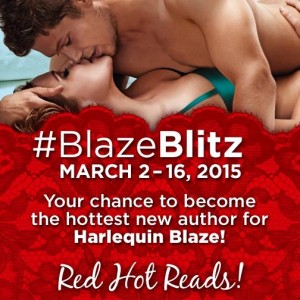 Call to action: Do your smokin' hot heroes and strong, sympathetic heroines burn up the page on their way to their happily ever after? We're on the lookout for new authors—and you could be the next Blaze Babe! We publish 55,000-word super-sexy contemporary romance novels. Along with great sex scenes, we ask our authors to deliver complex plots and subplots, realistic, engaging characters and an unforgettable love story. Blaze novels are fun, flirty and always steamy!

Submission dates: Monday, March 2nd – Monday, March 16th at 11:59 p.m. EST (2 weeks)

Writing tips: Follow the #BlazeBlitz hashtag on Twitter for exclusive content, writings tips and more!
What Harlequin Blaze wants:
A query letter that introduces your book and includes any previous publishing credits, writing contest wins, or affiliations.
A 4-6 page synopsis. We want to know what happens in your book, even the ending! No cliffhangers, please. Show us what drives your story forward, including the internal and external conflicts your hero and heroine face on the road to romance.
The first chapter of your manuscript (up to 20 pages).
What you get:
A fast response! Skip the slush pile and hear back from Harlequin within 45 days after the submission period ends.
Editorial feedback for every sexy contemporary romance received.
The possibility of having your novel published in Harlequin's hottest romance line.
Blaze writing guidelines: https://harlequin.submittable.com/submit/28675

Where to submit: Visit https://harlequin.submittable.com/submit and click '#BlazeBlitz Submission Blitz!'

Blaze author, Regina Kyle, on her path to publishing her first novel: 
Have you heard? Harlequin Blaze is having a submission blitz! Send in your synopsis and first chapter between March 2 and 16, 2015, and you'll get a response and editorial feedback within 45 days.

So what are you waiting for? Maybe you're not familiar with the Blaze line. Or maybe you're not sure about this whole blitz thing. No one ever really gets published from stuff like this, right?

Wrong.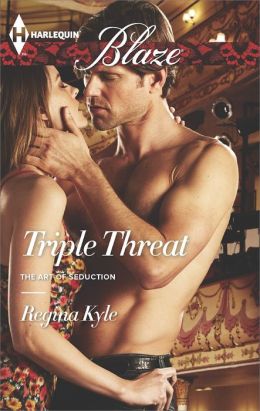 The last big Blaze bonanza (how's that for alliteration?) was a contest they had back in 2012. Like the current #BlazeBlitz, authors were asked to submit a synopsis and first chapter over a period of several months. The winner got an editor for a month to help polish their book.

For reasons too complicated to go into here, I had no plans of entering that contest. Then, a few days before it was set to end, things changed and, at the last minute, I sent in the synopsis and first chapter of my WIP, Triple Threat. And promptly forgot about it and kept writing, since I only had about half the book done at the time.

Fast forward a couple months later. It's the day before I'm jetting off for my first RWA national conference in Atlanta. I'm heading for DSW to search for the perfect shoes to go with my RITA dress when my cell rings. Some weird number in – Canada? It's Blaze assistant editor Dana Hopkins telling me I've won the contest – and can't tell a soul for an entire week! Torture! My recollection of the rest of the conversation is pretty blurry, but I drove right by the exit for DSW. Fortunately, I found some cute patent leather pumps at Kohls. And the conference, where the Blaze staff held a reception to announce my contest win, was a dream.

My month working with Dana was just as amazing. I learned how an editor approaches a manuscript and how I should approach revisions. We got through almost half my manuscript, and she asked for the full, which I sent to her in early January 2013. A little over a month later, I was stuck home in a blizzard when my cell rang again with that Canadian number. This time, Dana was offering me a contract not just for Triple Threat but for three more books! You could have knocked me over with a feather.

The year since has been crazy good. Triple Threat came out in October and my next book, Triple Time, will be released in June. Blaze is Harlequin's steamiest line, and I love the freedom I have in crafting emotional stories with a healthy dash of spice (and getting to name my scenes in Scrivener things like "Sex," "Sex Part Deux" and "Jace Gets Caught With Sex Doll"). Plus, I get to spend my nights (I work full time, so my writing is done after hours) with hotties like Joe Manganiello (my muse for Nick in Triple Threat), Eric Bana (the inspiration for Gabe in Triple Time) and now Jessie Pavelka (the man behind Cade in Triple Dare, which I'm currently writing).

As for the people I get to work with, the editors are really collaborative, giving suggestions but listening to my ideas, too. It's a real kick seeing my book grow stronger with their input. And the rest of the Blaze Babes, as we Blaze authors like to call ourselves, are the most supportive gals on the planet. If I've got questions, need a blurb, am looking for guests for my Facebook release party, I know I can turn to them and hear "yes" every time.

So, now that you've heard my story, are you thinking of jumping in and hitting send? You bet you are! My best advice is to start by checking out the Blaze guidelines at https://harlequin.submittable.com/submit/28675. Then read, read, read some of the great Blaze books that are out there. Tawny Weber, Vicki Lewis Thompson, Leslie Kelly, Karen Foley, Jo Leigh – the list goes on and on. Some are light, fun romps, others dark and deeply moving stories. See where your voice fits in and submit away! Then maybe next contest you'll be writing this blog post.

~ Regina Kyle


Questions?
Message our editors on Twitter:
@KScheibling<http://twitter.com/KScheibling>,
@Dana_Reads<http://twitter.com/Dana_Reads>,
@LauraBarth2011<http://twitter.com/LauraBarth2011>, and
@AdrienneApple<http://twitter.com/AdrienneApple>