ionR: Kindle Unlimited


This ionR concerns a new service provided by Amazon called "Kindle Unlimited". This is not an advertisement for said product, we're simply wondering what the opinions are about paid services like these.

There are a few different membership 'clubs' around, but KU offers something a little different – access to seamless transitions between the ebook and the audiobook, so you can switch between reading and listening on-the-fly. Of course, they're also starting off with a free 30-Day trial, and a free 3-Month Audible membership completely separate from the audiobooks you'd get with your KU membership.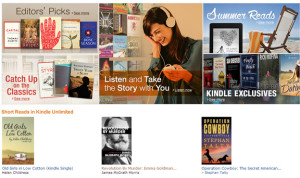 Now here's the downside. As of this posting, there are some major publishers (the top five in fact) that have declined to participate. That means that while KU offers 600,000 titles, the chances are high that they won't have a lot of the titles the consumer wants.
I'm saving discussions about other types of book lending services for another time, but do you have opinions about Kindle Unlimited?
Personally, I think the modifier 'Unlimited' is a bit of a misnomer at this point, but maybe you have another take on it.
Let us know in the comments!