ionR: 
Paranormal Heroes: Who are your Favorites?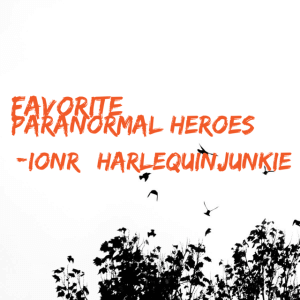 Since today is Halloween I wanted to continue with the theme of the eerie season with today's article and discuss the sinful, alpha heroes of paranormal novels.

The first adult romance that I ever read was a paranormal-romance that my mom loaned to me (against her better judgement) after I refused to give up my pursuit of having to have the book in my hands when I was in junior high.

Even now I can remember sitting next to a slightly raised window listening to the leaves rattle outside against the school yard and being consumed by the book entitled Forever in the Night by Linda Lael Miller. I was instantly hooked by the darker element of a vampire hero that was entangled in a forbidden love affair with a mortal heroine. Together the duo possessed a love that even the hero was willingly to risk his immortal soul in order to endure.

Today, that theme remains my absolute favorite and vampires have since then reserved a special place among my endless rows of bookshelves within my library.

Naturally there are other nefarious heroes out there far beyond the vampire. Lately there have been a great deal of novels being released that feature werewolves as the hero or even the heroine and my favorites include authors Pamela Palmer, Rebecca Zanetti and Terry Spear. Warlocks also have always been making a comeback lately. Yet, I haven't been able to find an author or a hero to add to my ever-growing favorite reading list. Suggestions?!

Of course let's not forget dragons. It may seem a little odd to fall in love with a dragon shape-shifting hero. I thought it was a bit awkward myself the first time I read such a book, but I have to say I love the theme. Authors such as Donna Grant and Lolita Lopez are a few of my favorites that have dared to cross fantasy with reality.

Regardless of whether you are a fan of vampires or dragons, paranormal-romances have something to offer us that we as readers cannot get elsewhere and that is a love story that is timeless while defying the odds of good and evil.

If you are not a reader of paranormal-romances I would suggest giving one of these heroes a try and I hope that if you do then you too can discover what I did as a pre-teen and that is the excitement and the thrill of reading.
What paranormal books are your favorites? What heroes do you love the most in the paranormal-romances?
If you do not like paranormal romances feel free to share your favorite heroes or books and tell us why these books/heroes are your favorites!
Leone