Man Candy by Vanessa Vale: While I've never reviewed a coloring book before it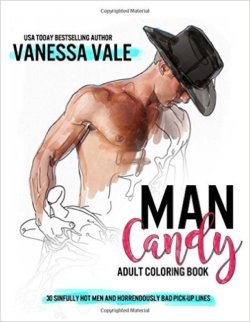 seems appropriate given it's national coloring book day and well lets face it, this one is just yummy without being hard on the waist line.

It's also the perfect time to pick it up since all the coloring pencils, crayons, markers, etc are on sale with the kiddos getting ready to go back to school. However I'm not sure I would be sharing this with them.

They say coloring is a good stress relief and I would agree esp when you can color these hotties and start dreaming… ☺ Pick this one up as a treat, just for you.

Book Info:
Publication: Published June 7th 2016 | Createspace Independent Publishing Platform |
We all want a little man candy in our lives, so why not in our coloring books? Are you tired of coloring eye-boggling mandalas and pictures of plants? Enjoy 30, one-sided pages chock full of hot men-from firefighter to surfer, cowboy to knight. Enjoy coloring their hot physiques, naughty grins and sometimes raunchy, always hilarious pick-up lines. Are you ready to break the mold and color outside the lines? Then these hot hunks are waiting for you. Wonderfully inappropriate and not intended for children.