Instagram #Giveaway
What happens when two people who've given up on forever find it in each other…?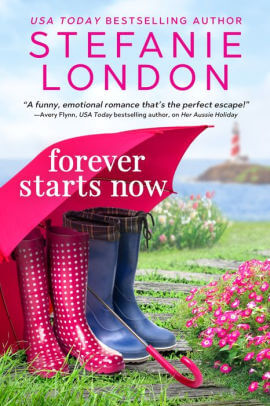 Single men are as scarce in Forever Falls as a vegetarian at a barbecue. That is, until Ethan Hammersmith moves in. After his fiancée gave him an ultimatum, he left Australia and never looked back. He isn't in America to find a new girlfriend, though. He's searching for the father he never knew. But now it's like he has a flashing sign above his head that says "available." Thankfully, the manager of the local diner is willing to give him cover—if only she weren't so distractingly adorable.
Monroe Roberts, town misanthrope and divorcée, knocked "forever" permanently off her wish list ever since the love of her life skipped town with the cliché yoga instructor. And good riddance. She's got this struggling diner to keep her busy, trying anything to boost sales…until a hot Australian strolls in and changes everything. Monroe's restaurant is packed full of women who aren't there to order food, unless Ethan is on the menu. This could sink her business faster than ever. So—light bulb—what if they pretend to be together?
It sounded like the perfect plan. It hilariously was not…
Instagram Giveaway Details:

 Enter to win (3) A Print copy of FOREVER STARTS NOW
You can enter this INSTAGRAM GIVEAWAY here -> https://www.instagram.com/HarlequinJunkie/
Note: Comment Left on this Post or on Facebook post do not count as an Entry towards this Giveaway.
This giveaway is NOT sponsored, endorsed, administered or associated with Instagram.
G O O D L U C K!