In A Baby for the Doctor by Jacqueline Diamond, surgical nurse Anya Meeks is not someone to have flings or anything like that. But on New Year's Eve she had a fling, she thought she was safe with the birth control and now she is facing the consequences of her mistake. She grew up shouldering more responsibilities than any child should. Since her mother was sick she had to basically raise her younger triplet sisters, take care of the home, her mother and her school. Now she doesn't want any responsibilities of a child again.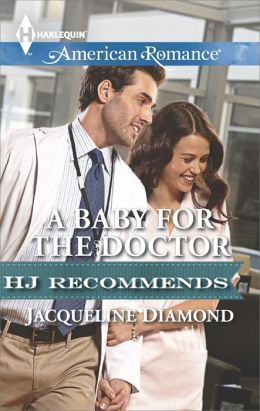 Doctor Jack Ryder has the reputation of being a player. Every woman in Safe Harbor Hospital vies for his attention, that is every woman but the one he wants. After one hot night with Anya on New Year's Eve, she has been avoiding him at all costs. That doesn't mean that he will give up easily. She works with him and is a great surgical nurse, but he wants more.
Anya has avoided Jack as much as she could without looking unprofessional, until she finds out that she is pregnant. She plans to give their baby away, only she is informed that he has to sign away his rights in order for her to be able to give the baby up for adoption. As much as she tries to tell him she can't find the courage, and she goes the coward's way out by sending a lawyer with the documents to sign away his rights without telling him that Jack doesn't know he is going to be a father.
Jack knows the pain of having a child and loosing it, he saw the pain his uncle went through after raising two little girls they both loved to pieces only to find out that they weren't his uncle's and having the mother taking away all his rights to see them. Family is important to him and he will do all he can to make sure that any child of his knows him. But first he has to find a way to convince Anya to give them a chance to be together and to raise their child. As well as prove to her that he will not leave all responsibilities to her and will help her as much as he can.
Which is how Jack is soon running errands and doing household things for her and her roommates. Something that Anya didn't appreciate at first.
A Baby for the Doctor is really sweet and heartbreaking story. Anya and Jack had rough childhoods, but each came out with a different perspective to life. Jack wants family and children, while Anya wants no responsibilities and no worries about others. Only once you learn her story you will get to understand her and her reasons, and if you are like me you are going to want to smack her family a little and make them see reason. But you will love the ending and how Anya and Jack find a way to compromise, even if it's just the beginning.
If you want a sweet and heartwarming read, don't miss A Baby for the Doctor by Jacqueline Diamond.
Book Info:

May 6th 2014 by Harlequin American Romance Series #1499
BABY STEPS
A baby is the last thing surgical nurse Anya Meeks expected from her passionate New Year's Eve fling. Growing up, Anya shouldered more than her share of responsibility, even raising her three younger siblings. She isn't ready to tackle a lifelong commitment to a child—or to a man—no matter how caring and attentive he seems.
A drop-dead-gorgeous doctor like Jack Ryder is used to the women of Safe Harbor Hospital vying for his attention. Too bad the only woman he wants is avoiding him. Jack longs for a family—he'll do anything to persuade Anya not to put their baby up for adoption. But with her jaded views on relationships and family, it won't be easy. Can he convince her that their love is no accident?