A Beaumont Christmas Wedding (The Beaumont Heirs #3) by Sarah M. Anderson is just the ticket to kick off the Holiday Season. It was a story of acceptance, and finding love.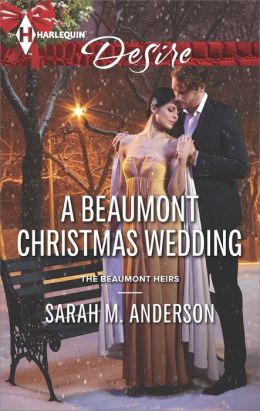 It is a story about leaving the past in the past and realizing that it is ok to not be perfect, more than ok. It is a story about seeing finding ones self and being seen for the person that you really are. I was truly touched by this story.
Whitney Maddox is a former child star, former bad girl, former headline making addict now turned horse trainer. She is more than happy to stay out of the headlines, out of the limelight and live on her peaceful ranch surrounded by the horses, and rescue dogs and cats that she loves so much. They don't care if she was once a wild child, they don't judge her by her past mistakes. They love her unconditionally. Now her best friend Jo is getting married in a media circus and has asked Whitney to stand by her side. Afraid that Whitney will ruin the wedding, or worse yet, trip, fall and cause a scandel, she relunctantly agrees. She has been clean and sober for the last 13 years, has been living a quiet existiance, but nothing has perpared her for the hot and handsome control freak, Matthew Beaumont.
Matthew has been in love with "Whitney Wildz" since he was a college student and she was the star of not only "Growing up Wildz" but the star of his dreams. Now that he grown and trying to prove that his right as a Beaumont, trying to cover everyone's messes, and trying to help plan his brothers wedding that will prove to the world that the Beaumont clan is still on top, he has no time for a headline grabbing, wild child that could derail the entire wedding and take everything off message.
But the more time that Matt and Whitney spend together, the more that they let each other see into the life that they lead, the more that the answer to the almighty question "Who am I to you?" becomes crystal clear…….they are the missing piece of the others soul. I truly loved the story of Matt and Whitney. I loved how protective that Matt is when the press starts coming at Whitney full on. I love how Whitney takes a really interest in Matt and his family dynamic. I love how in the end, they know that they will never be perfect, but they are perfect for each other.
I would recommend this story to anyone that truly believes in Holiday Magic.
Book Info:

Published November 4th 2014 by Harlequin Desire Series #2338 | (The Beaumont Heirs #3)
Naughty and Nice…
Public relations whiz Matthew Beaumont won't let scandal ruin his brother's Christmas wedding. Yet scandal is Whitney Maddox's middle name. He grudgingly allows the outrageous child star turned horse trainer to stay in the wedding party…as long as she behaves herself. But soon he's the one misbehaving with this irresistible maid of honor.
Determined to shed her troubled past, Whitney traded parties—and men—for a quiet life years ago. But one tumble into Matthew's strong arms has her thinking a hot night with the best man might be the perfect holiday gift…a gift that could last forever.