A Diamond for del Rio's Housekeeper by Susan Stephens: Fortunes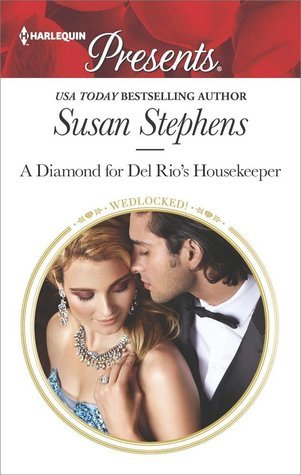 turned in Rosie's favour when the young orphaned woman found a place as a housekeeper and companion for Dona Anna, on the small but lush island of Isla Del Rey.
When the elderly woman passed away, she bequeathed the island, including the main house, to Rosie, and equally to her nephew, wealthy businessman Xavier. Xavier's part of the will has a caveat though – he must produce an heir within two years or the inheritance will go to Rosie. It's a bit of a quandary, especially because Rosie doesn't have the funds for the upkeep required for the island. After they meet, and discover an attraction to each other, Rosie proposes a solution. She'll marry Xavier to provide him an heir, in return for which he'll provide the money to fund her projects for the island.
It seems to be a perfect way for them both to get what they want, especially as Xavier now gets the added benefit of having Rosie in his bed! But can they take a marriage of convenience and make it into something real and long lasting?
There's a bit of insta-lust at the start of the story when Rosie and Xavier meet for the first time that gives a good prelude to what will happen later on in the story. I liked Rosie's character from the very start. She's had a tough go of things having lost her parents early on and living in an orphanage, until getting the job as Dona Anna's live-in companion. She has a backbone though, and isn't going to be pushed around by Xavier who would like to develop hotels on the island, a thought that horrifies Rosie for how it would spoil the natural beauty she's come to love. She's a feisty and strong character whom Xavier comes to admire.
Xavier has some emotional feelings about the island, a legacy from his time there with cold unloving parents. He hadn't returned much to the island because of these feelings, and he feels guilty now for how much has fallen into disrepair, and for not spending more time with Dona Anna (who had always treated him well) before she died. He has firm plans for what he wants to do –but these plans are thrown for a loop when he meets Rosie. At first he wonders if she is a charlatan, a woman who brilliantly deceived his aunt into giving her half his inheritance but he soon comes to realize that Rosie is as guileless and innocent as she appears, though with strong convictions. They share a few passionate kisses but nothing too serious until after they are married, at which time there are some sensual love scenes. But even though Xavier feels passion for Rosie, he is determined to keep his heart closely guarded. It's obvious that his aunt hoped that by leaving the inheritance to both him and Rosie they would find themselves to be real partners. There is a gradual change in his feelings, but one that shows just how much love Rosie brings into Xavier's life and their happy ending is sweet and satisfying.
Book Info:

Publication: Nov 1 2016 | Harlequin Presents |
When half his inheritance is left to his aunt's housekeeper, English orphan Rosie Clifton, Spanish aristocrat Don Xavier Del Rio is determined to claim what's rightfully his. So when Rosie surprises him with a marriage proposal, Xavier sees a way to get everything he wants…including Rosie in his bed!
Rosie will do anything to protect her home on the Isla Del Rey–even marry Xavier! She'll provide him with an heir, in exchange for him leaving the untouched beauty of the island intact. But can she trust her charming new husband–or his devastating kiss?