In A Game of Bride's by Megan Crane, Emmy is back in Marietta, Montana after 10 years for her sister's wedding and all the festivities planned around it. Despite the fact that she used to spend every summer there with her Gran and that she loved it there, when her heart got broken at the age of 18 she just couldn't go back. Emmy is not happy to be back, nor is she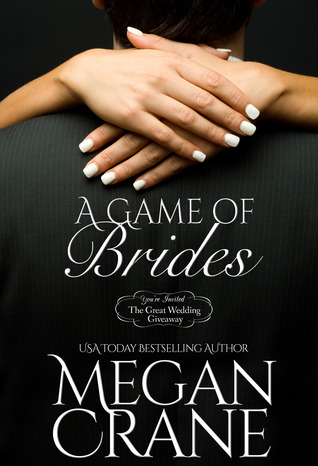 happy about everything her sister has planned. She's even less happy when the first person she sees is Griffin – the man who embarrassed her and broke her heart all those years ago. Emmy seems very determined not to enjoy her time in Marietta this time around.
Griffin was trying to do the right thing back then when Emmy offered herself to him and he rejected her. The past is in the past, he's been engaged and had his own heart broken, and is the owner of a successful sportswear company. Now he's back in Marietta to stay while Emmy will be going home to Atlanta. When Emmy ends up on his door step and needs a place to stay, she still holds her grudge but he's just as irresistible as ever. Griffin finds Emmy just as irresistible, and this time has no intention of not having her. A 3 week fling might just be what Emmy needs to get Griffin out of her system, right? Will she be able to leave again when everything she wants is in Marietta?
Griffin and Emmy have their second chance at romance in A Game of Bride's. Emmy's character really developed and matured well in A Games of Bride's. At first we have a bitter, grudge holding woman who is a bit difficult to like. Emmy will quickly grow on you though. Griffin is successful, but ready for a change. He knows what he wants and isn't afraid to go after it…or in this case her! I really liked him, he's responsible and respectful. Both of them have issues to work through that add depth to their characters.
Megan gives us a lot of conflict in A Game of Bride's from romantic conflict to workplace conflict which keeps things interesting! A Game of Bride's is fast paced and entertaining with some great secondary characters – especially the two Gran's who I loved! Megan's descriptives of Marietta, Montana and the cold will take you right there!
A Game of Bride's is a fast paced, steamy and fun novella to fall into that any romance reader will enjoy.
Book Info:

Published May 11th 2014 by Tule Publishing Group
Emmy Mathis is sure of three things:
1. Her sister Margery's three-week wedding extravaganza at their grandmother's Marietta, Montana home will be over-the-top ridiculous.
2. She'd much prefer to stay home in Atlanta in a pair of sweats.
3. And she absolutely, positively, won't feel even a hint of a spark for Griffin Hyatt, grandson of her beloved grandmother's best friend and the architect of the most embarrassing night of her life ten years ago.
But Emmy is dead wrong about number three. The moment she and Griffin lock eyes again, the passion that's always smoldered between them flames. And they aren't kids any more, so why should they deny the desire that sears through them both?
Is this no more than a wedding fling between two people with too much chemistry and an overload of history, or can Emmy try to build a new life from the ashes of their past? And if Griffin is truly really free of his fiance, why is he a finalist in the town's Wedding Giveaway? Emmy can't answer those questions, but she does know that Griffin has the power to burn her like no one else.
Still, how can Emmy walk away from the one man she's always loved now that she knows what she's been missing?