In A Lot Like Love by Julie James, Jordan might be the daughter of a self made billionaire, but she has independently made it on her own with her wine store. She's well known and successful in her own right, she knows a lot of people highly visible in the public eye, and they know her. It does not go to her head though, she is a fun loving, smart, independent, and for the most part, a happy woman.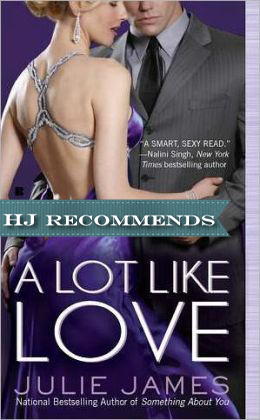 Her twin brother is currently in jail though, a source of constant worry for Jordan.
When Jordan is approached by the FBI for help in an undercover operation, Jordan is reluctant, but agrees if it means her brother will be released from prison. A pretend date with one undercover FBI agent to a big event the man they are hunting is hosting turns out to be with Nick. The scruffy at times agent who is nothing like any man she has ever gone for before cleans up very nicely, and it's not as hard to act like she's with him as she thought it might be. But when things go wrong and one pretend date turns into a pretend relationship, things start to feel a little too real for the man who won't commit and the woman who just might have found her match. Both of them start to see far below the surface of the other, forming a deeper attachment than either anticipated. But they both know it's not real, it can't be real…can it? When the undercover operation becomes more dangerous they will be forced to face what they feel and fear, even it's not what either of them thinks they want.
A Lot Like Love is a serious at times but also a sexy and funny romance by Julie James. I loved the interactions between Jordan and Nick, they are very entertaining! It is fun to watch them both grow as a couple through A Lot Like Love, even if they are only faking it. They are both strong characters and it's easy to feel attached to them. They might think they are complete opposites, but as a I read and watched their relationship evolve the similarities in them were striking and endearing. I loved that they are both mature characters with life experiences that have helped shape who they are today. Even if not all of these experiences have been happy ones, the maturity of the characters allows them to experience and move on from them. This helped make A Lot Like Love an easy book to fall into and love.
I really enjoyed the fast pace of A Lot Like Love, there was never a dull moment. There were enough secondary characters to help shape the story, but they didn't overpower the story or take away from the main characters. A Lot Like Love was an exciting romance with lots of great chemistry between Jordan and Nick, and just a touch of suspense to keep you on your toes wondering how it would play out.
I'd recommend A Lot Like Love to any romance reader who likes things a bit spicy and a bit suspenseful!!
Book Info:

Published March 1st 2011 by Penguin | FBI/US Attorney Series #2
The FBI wants her cooperation…
As the daughter of a billionaire and the owner of the city's top wine store, Jordan Rhodes is invited to the most exclusive parties in Chicago. But there's only one party the FBI wants to crash: the charity fundraiser of a famous restaurateur, who also happens to launder money for the mob. In exchange for her brother's release from prison, Jordan is going to be there—with a date supplied by the Bureau.
Agent McCall just wants her…
As the top undercover agent in Chicago, Nick McCall has one rule: never get personal. This "date" with Jordan Rhodes is merely an assignment—one they're both determined to pull off even if they can't be together for five minutes before the sarcasm and sparks begin to fly. But when Nick's investigation is compromised, he and Jordan have no choice but to pretend they're a couple, and what starts out as a simple assignment begins to feel a lot like something more.