A Reunion of Rivals by Reese Ryan is the latest story in the author's sexy small town romance series,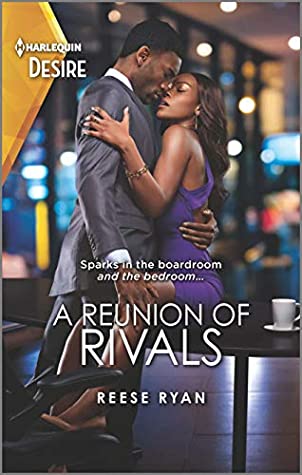 The Bourbon Brothers.
Quinn Bazemore and Max Abbott had a secret teenaged romance when Max interned at her grandfather's fruit farm that ended abruptly when Max called things off without explanation. Quinn was heartbroken, but moved on with her life and career, becoming a successful businesswoman.
Years later, Quinn and Max are thrust together when a merger between Max's family's distillery business and Quinn's family farm have them working on marketing for the fruit brandies the merger will produce. Max regrets the way he ended things and he's never forgotten about Quinn. Is this their chance to rekindle their romance?
I really enjoyed this story! Max and Quinn shared that first love, first passion that seems overwhelming as a teenager and indeed, it was Max getting cold feet that had him pulling away. Later in the story Quinn discovers that Max hadn't forgotten about her as easily as she'd assumed and working together brings back a lot of those old feelings that neither can ignore.
Their mutual attraction leads to some sexy love scenes, but doesn't stop them from clashing as they hash out the mistakes made in the past and the way forward. I love that Quinn is a smart, capable, marketing guru who pushes back when Max tries to assume too much control – in his defense he's used to being the one in charge and his family business is very important to him. But Quinn proves time and again that she wants what's best for both of their companies, and for them. Though at first she thinks a secret affair will be satisfying enough, Max wants more.
Max's family is complex and lots of drama and emotion surround their scenes, yet there is a strong sense of affection and loyalty between the siblings. Quinn and her grandfather have a special relationship too and all of the family scenes add to the enjoyment of the story as they celebrate some wonderful milestones. Max and Quinn go through some soul searching and discover that love is even better the second time around. I'm a big fan of this series (love the covers!) and look forward to what's coming next!
Book Info:

Publication: July 01, 2020 | Harlequin Desire | The Bourbon Brothers #4
Sparks in the boardroom
and the bedroom…
She can't let anything derail her passion project,
Not even a second chance with the sexiest man alive…
The deal that could bring Quinn Bazemore's career back from the brink has one catch: she must partner up with her ex-lover Max Abbott. Quinn can't forget the pleasure-filled summer they shared. But now she's butting heads over business strategy with the mouthwatering marketing VP, even as their reawakened desire threatens to expose her deepest secrets…